Easy Four Step Process to Simplify Your Life
By Emily Ley, creator of the Simplified Planner
We all desire more time for what matters most. But life moves fast, and with so many responsibilities pulling us in different directions, it's difficult to know where to begin. I designed the Simplified Planner to give you a clean slate. I challenge you to fully utilize its pages and commit to the process of simplifying your life for what matters. The Simplified Planner is designed to be your companion as you plan your days and prepare your life for more of the good stuff. Simplifying isn't just about having fewer appointments on your calendar. That's part of the equation, but simplifying starts ten steps before we even look at our agendas. It's a process that starts with prioritizing, eliminating distractions, creating habits and routines that work, and committing to choose what matters before adding the first note to your schedule.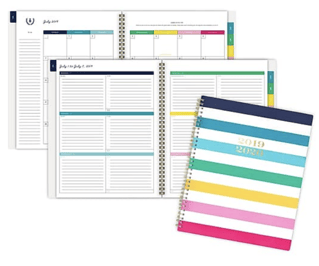 NAME WHAT MATTERS| Often, we think we can tackle everything in one day. We believe we can be everything to everyone. The first step in simplifying is to identify what you will regret at the end of the year if you don't focus on it now. Define that top priority over all the roles and responsibilities that require your attention throughout the day. These might include your spouse, children, families, parents, careers, entrepreneurial endeavors, home, church, volunteering, etc. Write down your top three priorities and exactly what each requires from you. Equally as important, note what you need to give those priorities to end each day knowing you gave your very best.


ELIMINATE DISTRACTIONS| Distractions are the number one reason we feel we do not have enough minutes in the day. They are the big and small things that creep in and steal our time. Distractions keep us from spending time on the priorities we care so deeply about. Before you begin planning your days with the Simplified Planner, take a look at a normal day and find ways to shrink or eliminate the distractions that get in your way.


ESTABLISH ROUTINES| Begin establishing routines, traditions, and habits to create automation in your life. At first it will feel like work, but once these routines become consistent, they will naturally make your days run smoother. Meal plan on Sundays. Lay out your clothes in the evening. Have a monthly "sit down" meeting with your spouse to make sure allimportant dates are on the calendar for the next month.


CHOOSE WHAT MATTERS| This is the trick to simplifying. You have a choice for how you will spend the next year. You can say yes to commitments and opportunities or you can say no. You can say yes to heading that project, but realize it means saying not to something else. You can say yes when your inbox is overflowing and your toddler is pulling at your pant leg, or you can say not now. Refer back to "what matters most" and make choices to make those memories happen. You will be filling the next 12 months with memories – not just task and appointments. Choose wisely.
Of course we would be remiss if we didn't suggest that having an effective Estate & Legacy Plan in place for your family should be a priority in your life.
Many of us who have careers invest 2,000 hours or more working each year yet statistically fewer than half of us are willing to invest even a few hours ensuring our loved ones are secure and protected in the future.
Planning is an act of caring. But you must care enough to act.
Call our office today to schedule your Estate & Legacy Planning Meeting with one of us today: 850-439-1191. We work with Florida residents statewide.