---
As much as I value routine in my life, there are times when some aspect of my life is just not working for me anymore and I need to make a change.
Unfortunately for most of us, change is never easy. Change might be fun and exciting or maybe even scary. But is major life change ever easy? Never in my experience.
My family may tell you that I'm the Queen of Change but really, they'd only be talking about surface issues such as my hairstyle which I seem to change every few months. Important life changes take time and much thought for me. Let me share with you one such experience from eight years ago.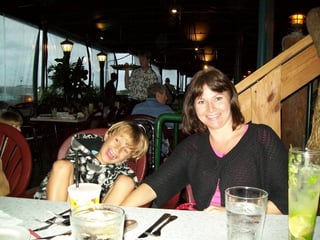 Me as a brunette 10 years ago
After driving a Pink Cadillac for several years, a small seed of a thought entered my mind that perhaps I needed to return to my law practice. It took another thirteen months before I actually made the leap back from cosmetics to law (and really, the leap wasn't so great after all since I am still an entrepreneur empowering women to make positive life choices). The hardest part of this possible change was in my own mind, not the actual change of businesses.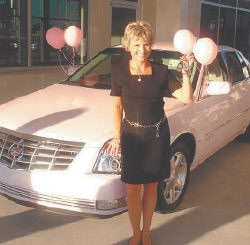 Picking up my Pink Cadillac
---
Reflecting back, here are the eight steps that I used in transitioning from a career with a well-known skin care company to launching My Pink Lawyer®.
My 7 Simple Steps to Making that Positive Changes in Your Life
Give Yourself Permission to Entertain the Change in Your Mind.
It sounds weird but I had to give myself permission to even think about pursuing a different career and business. I felt GUILTY about how my decision would affect my colleagues and mentors.
I finally had to remind myself that I had not made any decision yet. I just was allowing myself to entertain a new thought.
Start Pondering the Change in Your Mind.
Once I gave myself permission to think about stepping down from my position with the company, I then began to daydream and actively think about how my life and even daily routine would be different with a career change.
As an analytical person, I even wrote out a list of pros and cons. Tim Ferris in the Four Hour Work Week taught me to think about what the actual worst case scenario of my change might be. I realized I was not making a life or death decision here and that I, like many others, tend to overestimate the risks of change.
Discuss the Change With Your Spouse.
I personally don't think anyone but your spouse should have a vote on any major life change you make because, frankly, everyone has their own agenda. Sometimes the change you are thinking about may cause others in your life to feel threatened, questioning their own life choices.
However, in a marriage, a major life choice like a career change directly affects both of you. Without your spouse's "buy-in," your choice will usually create unnecessary stress in your relationship. As an independent person, I haven't always followed this advice, but trust me when I say that you and your spouse will be much happier as a couple if you agree on a major life change before you make it.
Get Inspired by Others Who Are Already Living the Change You Want to Make.
Once I started thinking about my career change and received Andrew's support, I then actively sought out others from my company who left to pursue a different career. I asked them why they left, if they had any regrets, and if they'd do anything differently in retrospect. Their advice motivated me towards making my decision to change course.
Make the Decision to Change.
Although I did not have a timeline on when I would decide whether to pursue a career change, one morning it just hit me that this was what I needed to do for myself and my family. I knew it would be hard on some of my friends and colleagues but I reminded myself that no one but me (and my husband of course) was paying my bills and living my life. At the end of the day, we all have to do what's best for ourself and our family.
Map Out Your Plan to Change and Give Yourself a Deadline.
Once I made the decision to make a career change, I then started mapping out a gameplan for the transition and gave myself a deadline to officially launch My Pink Lawyer® and to step down from my then current position with the company.
Take Action.
Once the decision was made, I neither second guessed myself nor let anything stand in my way. My motivation to get started is always strongest when I first make a decision and I knew that momentum would carry me through my doubts, but only if I was already taking action.

CONCLUSION
My transition as a leader with a well-known cosmetics company to the founder of My Pink Lawyer® was a choice that I came to realize I needed to make (and I'm so glad I did since I am positively impacting even more women's lives now).
However, not every change in your life will be by your choice. For better or worse, life happens. Loved ones die, get sick, become disabled and we cannot control it or prevent it from happening.
However, what we all can do is proactively plan for the inevitable. After all, the proactive planning we do now, when we are in a position to do so, is not really about us.
The planning we do now is for our family and loved ones because they are the ones who will have to live with the choices me made, or chose not to make, for their benefit to make their lives easier when we had the opportunity to do so. Click below to learn more.
I want to hear from you! What positive changes have YOU made recently in your life? Did you find yourself following any of the above steps in making your change? Do you have additional steps you'd like to share?