"What in the H-E-double 'L' was I thinking?," I asked myself for the 10th time in as many minutes as I delicated cradled my jaw with an ice pack and attempted to swallow three more ibuprofen pills.
It was less than 24 hours after I had one back molar tooth ground down to the nub in preparation for a new crown that my new dentist swore I needed to have.
Not having dental insurance for our family of four, in an effort to save a few bucks on our teeth cleanings, I switched dentists who charged about half the cost for a routine cleaning as our tried and true dentist.
Boy, did I learn my lesson. You get what you pay for.
Dr. Fruitcake, as he has come to be known in our household, upsold me on getting a crown on my tooth. Actually his staff said I needed FOUR crowns but at the time, having just started my law practice and paying out of pocket, I could only afford one crown.
Thank goodness.
Less than 24 hours after the temporary crown was placed, I was in agony.
My calls to Dr. Fruitcake's office went unreturned.
In tears, I finally broke down and called my regular dentist and confessed to the gal at the front desk what I had done. I had "cheated" on my dentist, I was in severe pain, and I needed antibiotics and pain meds posthaste.
When asked the name of the dentist who botched my mouth, I heard a long pause on the other end of the line. Not a good sign.
"Oh, honey," she sighed. "I really wished you had called us first."
I burst into tears again, my jaw throbbing.
I ended up needing a root canal after my dental debacle and several thousand dollars later (I actually can't remember how much it was but, at the time, it was a lot of money to me), I repledged my allegiance to my tried and true dentist.
Boy, did I get some scuttlebutt on Dr. Fruitcake and his staff too! Let's just say his staff were the best looking and most well-endowed dental hygienists I've ever seen in one medical practice before.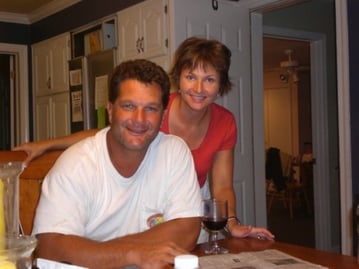 Andrew and I around the time of my dental debacle
I wish I could say that Dr. Fruitcake was my only unfortunate medical tale to tell. But sadly, I have other stories about using the wrong professionals in my past.
There's the LASIK eye surgeon who, shortly after performing my surgery, lost his medical license due to substance abuse issues.
[Looking back, he probably was high when he performed my surgery. "Whoa, I've never seen that before!" is NOT what you want to hear in the middle of your procedure when you've already been told to not, under any circumstances, look away from the laser light during your procedure!]
Another, now funny, story was an annual gynecological exam I had in college when the campus doctor asked if I minded if a medical student, who was in the middle of his eight week internship rotation, performed my exam.
Sure, what the heck, I said. Little did I know that this intern was actually an aspiring pediatrician.
I'm not sure who was more mortified, the intern or me as I stared at his purple name tag shaped like Dino the dinosaur from the Flintstones (please don't even tell me if you're too young to remember the tv show) that said, "Dr. Dan" during the uncomfortable exam. Yup, never forgot his name in thirty years.
Mind you, I'm not knocking Dr. Dan. I'm sure he turned out to be a great pediatrician.
With so many choices today, it's tough to know which professionals to trust and who will be a good fit for you.
It's important to research professionals and do your due diligence. Ask around for trusted referrals. Read online reviews. Schedule an initial meeting and decide if the professional's advice makes sense and if this is someone you would like to work with.
My trusted resource when researching attorneys is Avvo.com.
Of course I'd love to work with you, your family, and your friends to get your Florida estate planning affairs in order.
But I recognize that My Pink Lawyer® and I may not always be the best fit for everyone.
So, as with medical professionals, do your due diligence in researching Florida estate planning attorneys.
My root canal and new crown eventually healed up nicely. It was a costly mistake but a good lesson for me and my family: cheap can often be expensive.
At least I can laugh about it now and "Dr. Fruitcake" and "Dr. Dan" have established their folklore in our family's history.
Kristen "Never Exchange Trusted Value for Cheap" Marks
P.S. Want to see if we might be a good fit to work together? Why not schedule a FREE 10 minute call with me? Call the office and my assistant will coordinate our schedules: 850-439-1191