"Oh—My—God. When is this run ever going to end?," I asked myself as we entered our fourth hour on the trails.
Crazy Amy and I met for a leisurely 14 mile trail run at UWF which is what our training schedule called for in preparation for our 30K race next month in Pikes Peak Colorado.
Doing the math and estimating a 15 minute mile pace, I figured we'd be done by 10:30am. It was now after 11:00am and we still had three miles left to go.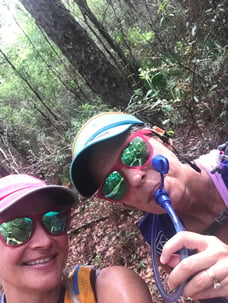 "I need to stop and finish this water," Crazy Amy called to me. She plopped down in the middle of the trail, unhooked her hydration pack and chugged the rest of her water. Never mind that we still had three more miles to go. And when you are in the middle of the woods, it's not like you can just decide to stop and cut your run short.
Don't call me Captain Obvious, but I have quickly discovered that it's a whole other ballgame training in the heat and humidity. Saturday's heat index was 98 degrees!
Running in the heat has an entire different set of issues than running in freezing temperatures when we were training for the Blackwater 50K held in February. It almost feels like we are starting over again.
Obviously hydration is now our biggest issue, rather than keeping my extremities warm. Hydration and keeping cool.
Our clothes and hydration packs were completely soaked through with sweat by the time we reached the car again shortly before Noon on Saturday.
And, much to our horror, Fireball doesn't hold the same appeal at our imaginary aid stations in 90+° like it did in below freezing temperatures!
Just as changing temperatures warrant different training opportunities, so too does your changing life circumstances warrant changes or updates to your Family Succession Planning.
In our household, my husband and I are one year away from being official empty nesters. Jill will be heading back to college soon to begin her second year and Drew is starting to apply for colleges this summer.
Andrew and I are entering a new phase in our family's life and we will be reviewing our own Family Succession Plan again next year when Drew leaves for college. (No need to worry about guardian nominations at that point!)
My rule of thumb for reviewing your family's Estate Plan is every 3-5 years unless you have a significant change of family circumstances in the meantime (i.e. divorce, marriage, birth or death, disability, significant increase in family wealth or income, etc.).
And just because you review your plan with your trusted professional, doesn't mean that you will need to make any updates at that time. If after reviewing your plan and discussing your current circumstances, your existing plan still does the job, then great. You know you're "good to go" for another 3-5 years.
If I previously crafted your Family Succession Plan, then we can review it again for a nominal charge.
If you are new to our office, I offer Family Succession Strategy Sessions for $197 to either review your existing plan or to start from scratch.
Either type of session can be booked online or by calling the office: 850-439-1191.
This weekend's training schedule calls for 16 miles in the woods. We will be better prepared this time with our water situation. I may even pack some frozen water bottles to help stay cool (at least for the first 30 minutes or so until it melts!).
I enjoy the challenge of ultra race training almost as much as I enjoy the challenge of custom crafting practical and effective Family Succession Plans for my clients.
Kristen "Captain Obvious" Marks