" No dame ever ran the Boston Marathon!"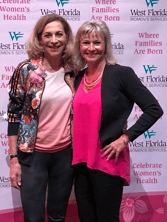 Kathrine Switzer & Kristen Marks
That is what Kathrine Switzer's trainer exclaimed when she emphatically told him she wanted to race what has now become the one of the most celebrated and famous marathons in the world.
The year was 1967 and the Boston Marathon was an all male event (even if only by unspoken tradition).
Kathrine ran the 1967 Boston Marathon amid huge controversy.
The organizer of the event was none too pleased that a WOMAN should dare encroach upon his male only sporting event.
The images captured on film of Jock Semple attempting to tackle Kathrine on the race course are shocking.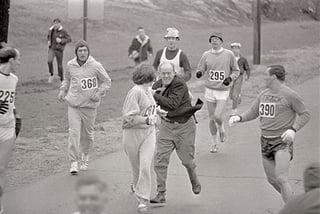 Remember, however, this was 1967 on the Eve of the Women's Revolution.
Kathrine finished the Boston Marathon and went on to become champion of women's rights, including the creation of the Avon International Running Circuit, a global race series for women which grew to 400 races in 27 countries for over a million women.
Through Kathrine's tireless lobbying, this race series became a major factor in the women's marathon being included in the Olympic Games for the first time in 1984.
Some friends and I (including my running buddy, Amy) had the privilege of hearing Kathrine Switzer speak at the 5th Annual Women's Night Out at the Saenger Theater last night.
What an amazing woman and inspiration. And how funny!
"This isn't a man v. woman issue. It's an equal rights issue.
I happen to love men. I've married a lot of them!"
Kathrine is now 70 years old (though you'd never know it to look at her) and she runs everyday.
Kathrine ran the Boston Marathon again this year to commemorate 50 years since her first (now infamous) Boston Marathon.
Kathrine encouraged us to be fearless in following our dreams and to never give up.
"Destiny is bullshit. Destiny is simply never giving up."
She reminded us to always encourage one another and never judge.
And that it's never too late to try something new.
I met Kathrine Switzer following her talk last night. I told her that my friend, "Crazy Amy" and I were running a 50K trail race in February. Of course, she was super encouraging.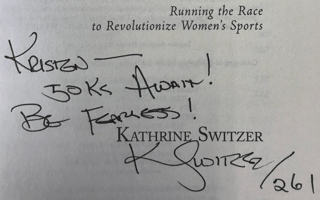 When I grow up, I want to be just like Kathrine Switzer.
I hope that my life and life's work will be an encouragement to others.
Know that I am cheering YOU on everyday in your dreams and endeavors.
Kristen "Striving to be Fearless Everyday" Marks
P.S. To learn more about Kathrine Switzer's latest work, check out her non-profit 261Fearless.org.
P.P.S. I've uploaded a lot of new videos recently to our YouTube Channel. I'd love it if you would follow us! Click the image below to follow us on YouTube.