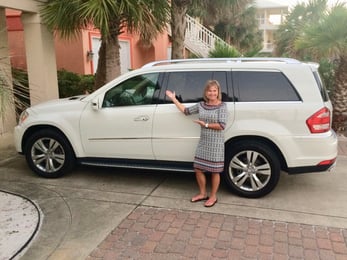 Geez, this guy does not seem to know what he's doing, I thought to myself.
"Chris" was opening all of my door, popped the hood, opened my trunk and looked under all of my seats looking for the location of my car battery.
I was sent down to the local auto supply store last Sunday by Tires Plus in Gulf Breeze, my favorite "go-to" auto mechanic if a repair does not necessitate a visit to the Mercedes dealership.
My vehicle was starting to have a hard time turning over and I was afraid my car battery was going dead. We would be visiting Jill in Tuscaloosa that weekend and I didn't want my car to die on the road trip.
Unfortunately, Tires Plus was out of stock of my car battery but located one up the highway at a local auto supply parts store. Mike, the Tires Plus manager (great dude by the way), suggested I go up there to inquire if they would be able to install the new battery for me which would save me a couple hundred dollars.
Unfortunately, "Chris" was not earning my vote of confidence since he could not even locate my car battery in my vehicle. (In all fairness, the battery location in my vehicle is not intuitive but still....) I decided I would be better off to wait and pay the service premium to have Tires Plus install the battery for me instead.
It is important to have trust in the professionals you work with. After all, we are investing our hard earned money in goods and services and we should feel confident that stuff is gonna work like it should when needed.
Even though "Chris" might have figured out how to install my new battery, I would have had lingering doubts about his proficiency and wondered every time I got into my car whether my battery would be fried.
So back to Tires Plus it was. The extra labor cost was well worth the peace of mind driving back home an hour later.
It's not always true that you get what you pay for but it has certainly been my experience that the more experienced the professional, the more money you will likely invest in quality goods and services.
I'm the first to tell everyone that we may not be the cheapest kids on the block at My Pink Lawyer® but I've personally been in business for over two decades and I founded My Pink Lawyer® a decade ago to help Florida families protect their hard earned assets and money. We specialize in your Florida Estate Planning, Wills, Trusts, Estates, Probates, Special Needs and Guardianship matters.
We offer low-cost, no-obligation consultations so you can judge for yourself if you feel confident that we can not only meet your planning needs but exceed your expectations at a reasonable fee. You can book your consultation online here.
Back in my car, it turned over like a dream. This is not a paid advertisement but if you live near Gulf Breeze, I highly recommend you check Tires Plus out the next time you need auto service work or new tires. They are fair in their prices and go above and beyond in servicing your vehicle. Ask for Mike when you go and tell him I said thanks again.
Kristen "Won't Be Stranded Anytime Soon" Marks