I'm not gonna lie. I was happy to be practicing yoga early Saturday morning inside my cozy condo rather than running through the windy, cold woods with Crazy Amy for our annual Bear Bait trail race.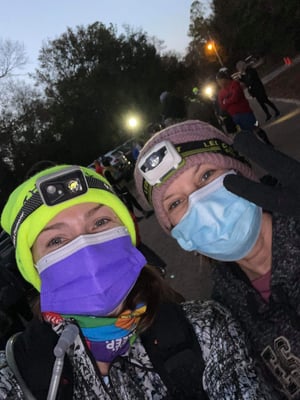 Continuing her ultra running streak, Amy had signed up this year for the 50 mile distance! I had dropped down again to the 25K distance and planned to run the first 4-5 laps with Amy before bailing. Amy's husband would be crewing her the rest of the day into the night.
However, Thursday morning I received a call from my sister-in-law that she would be coming down from New York for a short, impromptu visit. She would spend Friday night with us and Saturday night in Fairhope with my brother-in-law and his family.
I hadn't seen Allison in a year and a half. She would be visiting us for less than 24 hours. If I had raced on Saturday, I would miss most of her visit. I'd be going to bed super early and arising at 3am to prepare and drive to the 6:30am race start.
As badly as I felt bailing on Amy, I know I made the right choice under the circumstances.
Family always takes priority in my world as it probably does in your world too.
Some clients struggle with competing estate planning goals that we need to discuss and work through in designing their final plan.
On the one hand, some clients want to maintain lots of control "from the grave" with detailed distribution terms. The desire to control their affairs following their death may be a carry-over of how they handle their financial affairs during their lifetime. Sometimes the desire for control is born out of necessity with loved ones that are unable to manage their own affairs competently, such as minor, disabled, or drug addicted children.
On the other hand, there is usually an increased cost associated with a high level of control, both in the planning stage with me and post-death in the ongoing expenses associated with maintaining a trust long-term.
Other clients struggle with who they want to leave an inheritance to. Should they include their long-lost black sheep child who wants nothing to do with the family anymore? Should they include their beloved godchild who is not a blood relative but whom they treat like one of their own?
Or, take for the following example of a frequent situation I run across in my practice.
Client has multiple children and one of his biggest assets is his home. His kids don't get along and he knows they will disagree over what to do with the home when they all inherit it.
An obvious alternative would be to require the sale of the home following his death and then divide the proceeds between his children. Sounds good in theory but it comes at a cost.
The downside to this option is that the home would lose its homestead exemption from his creditors upon the Client's death. Client may not have creditors now but you never know in the future. Medical bills may be present.
After I explain his options to him, Client then decides which option is the "lesser of two evils" for his family: his children fighting over what to do with the house or potential creditors going over the sales proceeds.
A thoughtful, well-drafted estate plan design often requires compromise or balance of some kind. Equal, outright distributions are not always the best option for one's family situation.

And yes, sometimes loved ones will have their feelings hurt or be disappointed with the decisions you make. Although a factor to consider, at the end of the day, your planning decisions are YOUR decisions to make.
The host of a podcast I listen to called "Afford Anything," has a great tagline: "You can afford anything but you can't afford everything."
Similarly, you can do [almost] anything with your estate plan, but you can't do everything.
The only way you'd ever have a perfect plan would be if you or I had a crystal ball and I could predict exactly how your children will act in the future, what creditors you will have, what your assets will look like when you die, what the tax laws will be in the future, etc.
Since we don't know what the future holds, we make the best decisions we can in the moment based on the current facts and most reasonable and predictable future scenarios.

Then, as our and our family's lives evolve, we adjust our estate plans as necessary to stay current with our changing circumstances.
The same is true in our personal lives. We make decisions on how to invest our time, money, and energy based on our priorities and what will help us sleep better at night.
And once you make a decision, embrace it and don't feel guilty over the path not chosen.
For me this weekend, it was forgoing a race with my good friend, Crazy Amy, to spend time visiting my long lost sister-in-law.
Crazy Amy did great in her race without me (as I knew she would). She completed a personal record of 40+ miles! I couldn't be more proud of her.
Kristen "Happy with my Bear Bait Bust Decision" Marks
P.S. Give me a shout if you want to talk through your planning decisions to find the right balance for you and your loved ones. 850-439-1191