"Wait, you haven't heard?," my husband asked me on the phone.
"Heard what?," I replied.
"The rental company double-booked the beach house for this week."
I was silent as my brain tried to process what Andrew had said.
Then, after a few beats, "What?!!! How could this happen? The house was booked last summer!"
"I don't know but I wouldn't rush over if I were you. Apparently, it's a bit of a sh*tshow at the house right now. I'm almost there."
It was our annual Marks family beach week reunion in Seaside, Florida over the week of July 4th. My sister-in-law had reserved the house for our party of 16 family members last August.
The double-booking was discovered when, after my sister-in-law's family showed up at the house and unpacked their vehicles, another family of 13 people showed up to move in as well.
Needless to say, the other family was not happy and was yelling and screaming at the rental company on the phone.
The other family eventually left (apparently to go yell at the poor woman unlucky enough to be working that Saturday afternoon at the rental company in person) and we decided to spend the night despite not knowing if we would have to pack up and move the next day.
Not having heard anything from the rental company that night, Andrew and his brother went to the rental office first thing the next morning to get things sorted out.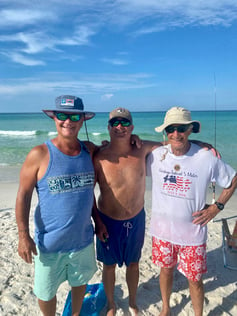 It turns out that the rental company found the other family another house to rent and upgraded their accommodations (rightfully so!). I felt so badly for them and the entire situation.
Vacations are supposed to be stress-free and although they can also be exciting in a fun way, this was not the type of excitement that anyone wanted to begin our beach week vacation.
Similarly, your estate plan when it is needed, should be stress-free for your loved ones and NOT "exciting." In fact, I'd say that an "exciting" estate plan is, by definition, stressful for everyone involved.
Here are some characteristics of a stress-free estate plan:
Clear and Comprehensive Documentation


Ensure that your estate plan includes a well-drafted Will, trust (if needed), power of attorney documents, healthcare directives, and updated beneficiary designations. Clear and comprehensive documentation reduces confusion and potential conflicts among your loved ones.
Regular Reviews and Updates


Review and update your estate plan regularly (every 3-5 years is our recommendation) to align with life changes. Major events like divorce, marriage, or the birth of a child may require more frequent adjustments. Keeping your plan current ensures that it accurately reflects your wishes.
Open Communication and Family Involvement


Although every family is different, in a perfect world, you would keep your loved ones in the loop with your estate plan to reduce future stress and misunderstandings. Communicate if possible (and desired) your intentions and explain your decisions. This fosters transparency and reduces future conflicts.
If you are not comfortable with these conversations now, you may also consider writing letters to your loved ones to be opened after you die that explain the decisions that you have made.
Professional Guidance and Expertise


Seek guidance from an experienced estate planning attorney. Their expertise ensures that your estate plan is legally sounds and tailored for your unique circumstances. Professional assistance reduces your stress in making decisions, provides valuable insights, and ensures that your loved ones have a professional to guide them through post-death administration if they have questions.
Contingency Plans


Be sure that your estate plan builds in contingency plans by designating alternate personal representatives (known as executors in other states), trustees, and beneficiaries. This accounts for unforeseen circumstances and ensures your plan remains effective even if the primary individuals are unavailable.
Our goal at My Pink Lawyer® with every estate plan that we custom-craft is to ensure that plans remain as simple and practical as possible while also ensuring that a client's planning goals are met.
Not to mention that every Florida Estate Plan that comes out of our office is the opposite of "exciting." We want estate planning to be stress-free for both you and your loved ones, boring even!
Call us today to discuss YOUR "boring" estate planning goals! 850-439-1191

We offer free 10 minute Q&A phone calls with our attorneys, in addition to our comprehensive initial estate planning consultations.
Kristen "Crafting "Boring" & Stress-Free Estate Plans for almost 30 years" Marks