"I got a new boob that's 20 ounces like my other boob so your boobs will NOT be with me. Your boobs are too small," the text read.
"Hey, who are you calling small-boobed?," I replied, chuckling.
That's the actual text exchange Crazy Amy and I had a few weeks ago before she ran her umpteenth (I've lost track!) 50K trail race in Georgia.
I stopped running ultra-trail races (any distance over a marathon length) a few years ago when life and work got in the way of my weekly training.
I recently started training again for more modest race distances.
My next "big" race will be a mere 30K in Bryce Canyon in May.
Crazy Amy? She registered for the 50K distance, of course, and she is training for her first 100-mile race! Say, what?!
Yup, my friend is a true Rock Star!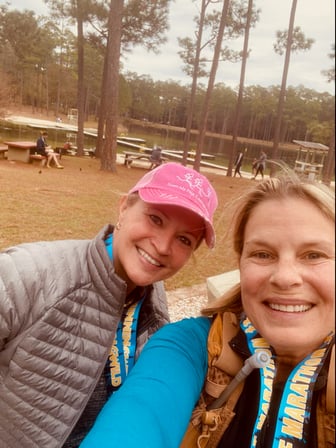 Crazy Amy and I ran our 4th half-marathon trail race at Krul Lake in Blackwater River State Forest yesterday.
It has been a long while since I've run any race and my training has only begun again recently. Last weekend's 10-mile training jog was a slog to get through so I was not setting the bar high for myself for this race. I was not as prepared as I'd been in years past.
I've learned the hard way that preparation for races is important so you do not injure yourself. Plus, it is no fun to feel like you're dying the entire time you are running. Races are supposed to be FUN, right?!
So too when preparing for your end of life. Preparation is important so you do not leave a mess behind for your loved ones. And, contrary to popular belief, planning one's affairs does not have to be a dreaded affair.
End-of-life planning can actually be, dare I say it, FUN! At least that is what many of our clients tell us about their experience with our office.
"Celebrating my life! That's exactly how I feel today after signing my Estate Plan today. I am so proud of myself for getting up the nerve to contact this firm full of ladies! I feel a huge weight off me knowing that I will spare my children much misery and expenses when I do pass, and now I do not need to waste time worrying about them." Mary H.
As it turned out, this weekend's race went better than expected. Crazy Amy and I finished 7th out of 16 women in our age group this past weekend.
Next up for me? A modest 10K on Pensacola Beach in early January.
In case you're still wondering what Crazy Amy was talking about in her opening text to me, I had lent her some handheld water bottles that slide into a running vest at chest level. Hence the term "boobs." Apparently, my "boobs" were too small for her liking so she bought some bigger ones for the race!
Kristen "Who Apparently Takes No Offense at Being Called 'Small Boobed'" Marks
P.S. I'm reading a great book called "The Lost Art of Dying," by Dr. Lydia S. Dugdale. The book explores the idea that to die well you have to live well. The book is well-written, thoughtful, and thought-provoking. I highly recommend you add this to your reading list over the holidays.
P.P.S. We still have some spots available in December for new estate planning consultations and review meetings. Call the office for current availability: 850-439-1191