"Registration opens for Bryce Canyon Ultra!," screamed the email headline.
Huh, Bryce Canyon. What the heck, I thought, as I clicked the link to check it out.
I haven't run regularly in a long time and it has been at least two years since I have trained for an ultra-marathon (any distance that exceeds a marathon length).
The training for an ultra takes dedication, including a full day out on the trails every weekend. With my current work schedule, that is just not in the cards for me at this time.
However, this race offered a 30K distance. Huh, I thought, I wonder how far 30K is in miles?
My eyes lit up when I googled the answer. "Only" 18 miles!
Heck, I thought, I can WALK 18 miles if I have to, and, as a pretty fast walker, I was pretty sure I could still finish in the cut-off time.
Plus, the race isn't until next May so I will have plenty of time to train, right?
So, as a spontaneous gesture [my husband calls it "impulsive"—I say "potayto" "potato"] and before I could talk myself out of it, I whipped out my credit card and registered for the 30K.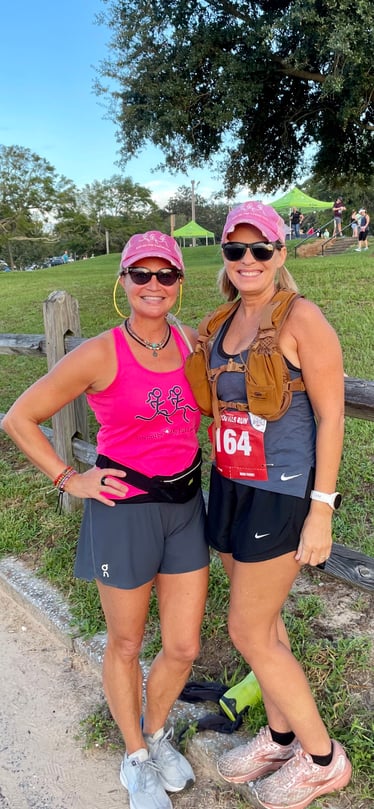 Excited and on a roll, I googled other upcoming races and registered for four more: the Bayou Hills 10K held on Labor Day, the Krul Lake Half Marathon Trail race the weekend before Thanksgiving, a 10 mile trail race in Seaside, and another Half Marathon on Pensacola Beach in January.
In for a penny, in for a pound, right?!
Of course I was excited to tell my running partner in crime, Crazy Amy, and she was all in except that she registered for the Bryce Canyon 50K instead of my "piddly" 30K.
I am back in the racing saddle, my friends!
In preparation for the upcoming miles in my future. I downloaded a new training app that is mapping out my training schedule over the next few months. This way I will not have to think about how I should be training every week. I will instead have the "expert" map it out for me and I will just trust the process that I will be prepared come race day.
Similarly, at My Pink Lawyer®, we are experts in getting your estate plans prepared to make life simple and pain-free for your loved ones when it comes time for the transition of your assets.
Just like my running app is doing for me, our experienced estate planning attorneys will guide you through the process of getting your affairs in order with simple step-by-step instructions. Follow our strategy and keep up posted on any new developments in your situation and you too will be ready when the time comes.
Although I won't be breaking any speed records in my future, you can bet that Crazy Amy and I should have some good stories to share soon on our training journey.
Kristen "Good to be Back in the Race Saddle Again" Marks
P.S. Joy Reily is a "new" attorney in our office assisting clients with their Florida estate plans. Joy has her own estate planning law practice in Baton Rouge and is slowly making a full-time transition to Florida. Joy is currently licensed in both Louisiana and Florida. You will have the option of meeting with either one of us when you schedule an appointment with our office. 850-439-1191