Aahh.
I relaxed, settling into the bed, eyes closed.
I was almost asleep. I heard the sounds of tinkling silverware, laughter, and mariachi guitar music in the background as I drifted off.
"Ok, please turn over."
As I flipped over, my towel slipped, I opened my eyes and saw the open-air restaurant, full of patrons, through the open flap of the tent door.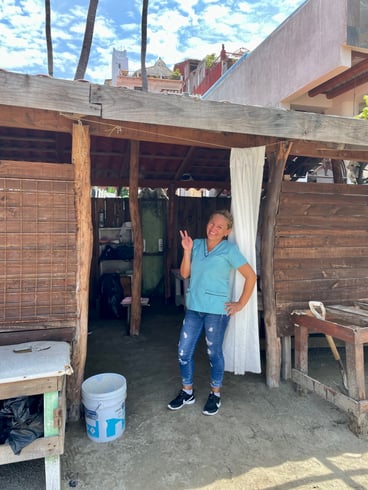 Oops, here I was, completely nude. Realization hit that if I had an unobstructed view of the restaurant and its patrons, then they also had an unobstructed view of my unclad massage.
I was briefly stricken with panic but then quickly told myself, I'll never see these people again. I closed my eyes and relaxed.
When in Mexico…
I was enjoying my $25 ninety-minute beachside massage in Zihuatanejo last month. The massage therapist asked me to strip down to my birthday suit and I obliged.
Although a little self-conscious at first, I had to admit that being completely "transparent" was the only way to get the benefits of a full-body massage.
I ask my clients to do the same thing.
Not strip naked, mind you.
I ask my clients to complete an estate planning worksheet prior to our initial consultation to disclose their assets, the titling, and approximate values thereof. I review each worksheet thoroughly prior to each meeting. Clients quickly learn that I am prepared for our time together.
Why do I ask for detailed information about a client's assets prior to our meeting, especially if someone says they "only want a simple amendment to their existing Will"?
I am not being nosy. Plus, we take attorney-client confidentiality seriously at My Pink Lawyer®.
The simple reason for full disclosure is because my clients are hiring a professional to ensure that their assets indeed pass according to their intended recipients on the terms that they choose.
Unfortunately, that is not always as simple as stating one's wishes in a single document, such as a Will.
In fact, if avoiding probate is important to you, that CANNOT be accomplished using a Will!
An estate plan is comprised of a series of tools that, when used together, give you the result you intend.
Estate planning tools may include a Will, a trust, changing ownership designations, updating beneficiary forms, signing deeds, etc.
It is important for your estate planning advisor to have a very clear picture of where you are starting from (a list of all of your assets, the titling, beneficiaries, who your family members are, your family dynamics, etc.) in order to craft a comprehensive estate plan that carries out your intended wishes.
Remember, a simple Will or Codicil will not necessarily in and of itself carry out your wishes.
Only full disclosure can ensure your estate planning goals are carried out.
In other words, caveat emptor if you are not willing to "let it all hang out" with your estate planning advisor.
Kristen "Willing to Let It All Hang Out" Marks
P.S. Call us today to schedule your comprehensive estate planning consultation if you are willing to "let it all hang out" with us. 850-439-1191 Or download any one of our free planning guides from our website to learn more.