"Hola," I heard in a squeaky voice coming from the terrace below me as I sipped my morning coffee last week. It was going to be another beautiful, sunny, albeit hot, day.
"Hola," I replied.
"Hola," I heard again.
"Hola," I repeated.
"Hola." I smiled. I was starting to realize what was going on.
"Buenos dias," I chirped.
…a short pause later…
"Buenos dias," came the response. I let out a guffaw, spitting my coffee in the process.
Welcome back to Mexico, I thought.
Our neighbor below us during this visit is a parrot. And apparently, a Chatty Cathy at that.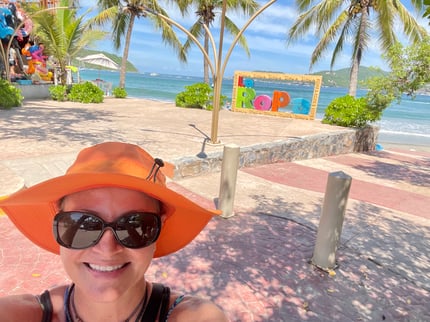 Zihuatanejo is already started to feel like a second home to us. Although Andrew and I have no plans to retire anytime soon, we are excited about our new adventures exploring another country.
After months of awaiting word on the closing of our vacation home, we scheduled a meeting with the closing attorney while we were in town last week.
This time, we retained our own legal representation and a translator to explain where we stood in the process.
Although Andrew speaks a little bit of Spanish and can communicate fairly well in both general and fishing conversations, and I am still learning the very basics, we certainly felt out of our league attempting to understand in Spanish, much less communicate effectively, legal terms and the real estate closing process for foreigners in Mexico.
After a bumpy start, and a minor heart attack when our interpreter translated that we still owed all of the closing costs which I had already paid two months ago, we finally got everything sorted out. I was able to show receipts where I had indeed paid them and the closing attorney was satisfied.
The attorney then asked us how we wanted our trust to be drafted. [When purchasing real property along the coast in Mexico, foreigners must use a Mexican trust to hold title.] I explained through our interpreter that Andrew and I should have automatic rights of survivorship as between the two of us and that following both of your deaths, our kids should be named as the death beneficiaries of the trust so that we avoid probate in Mexico.
She replied, "no problema," jotting down my wishes in our file.
Just like in Florida where trusts are used frequently to avoid probate of real estate and other assets, so too, trusts are commonly used in Mexico to avoid probate of real estate.
It gives us great peace of mind knowing that when something happens to my husband and me, that our children will have minimal hassle in proving they own our Mexican abode. Plus, we are establishing trusted relationships with the attorney, our legal representative, and the translator now that our children can use when they need them.
Just like establishing a trusted relationship with your estate planning attorney NOW will bring you peace of mind knowing your loved ones have a place to turn when you are no longer here.
I have found it to be true that everything moves at a slower pace in Mexico. What's the rush? Slowing down is not a bad thing when you are trying to relax. But the flip side is that closing on property takes longer too.
We are hopeful that our purchase will be completed in October but no one can give me any definitive assurances.
As an inherent planner, this is kind of driving me 'un poco loca.' I wish I had a crystal ball.
Maybe I should have asked my downstairs tenant before we left to get his (her?) prognostication on the matter.
"Hola, lora. ¿Nuestra venta terminará en Octubre?"
Kristen "Now Talking to Parrots" Marks
P.S. We have lots of FREE resources and information on our website so you can learn more about how trusts may benefit your family. Click the button below to order our free book which includes an entire chapter on living trusts and avoiding probate.