Ugh, I thought to myself, reading my client's Will upside down across the table from them.
I caught a small typo that I would want to correct before signing the document.
It never ceases to amaze me when this occasionally happens.
I proof my client's documents at least three times before we ever even get to the signing appointment (drafting the documents, proofing the documents on my computer, and then proofing the hard copies of the documents before the client arrives).
Yet, somehow, reading a document upside down while I'm seated across the table from a client and explaining the document to them, I can catch an otherwise obvious error that somehow missed my attention the first few times around.
This doesn't happen often but when it does, it reminds me of a very important lesson in my life.
Sometimes we all need a change of perspective in our life to grow and improve as a person.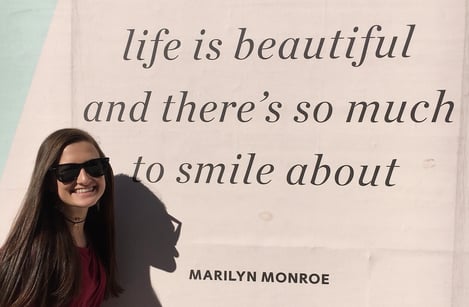 I remember another time that my perspective shifted.
I was at a business coaching retreat back in my Mary Kay days. The business coach that was leading the group had us each prepare a "dream" board of what we wanted our life to look like. Armed with oodles of glossy magazines, scissors, glue, and markers, we all were busy cutting out photos and gluing them onto our posterboards.
When I finished, I remember feeling proud of how organized and methodical my photos were glued onto the board, all right angles and perfectly straight.
I was amazed when I looked around and saw many other dream boards with the photos splashed across the posterboard, glued seemingly willy-nilly, all cock-eyed to one another.
Wow. It sounds silly now but it honestly never even dawned on me that I would be "allowed" to glue my photos onto the board in any way other than perfectly lined up.
Another example of my shifting perspective happened a few years ago when I decided to work exclusively with estate planning clients and remove probates and guardianships from my practice.
With the probates, I simply stopped accepting new probate matters and let the probates that I was already involved in simply run their course.
It wasn't so easy with my guardianship practice since those matters continue indefinitely until either a client dies or there is no longer a need for the guardianship.
Not wanting to leave any of my guardianship clients in a lurch, I lined up a colleague of mine to take over their cases. Of course, they could work with someone else altogether if they wanted to.
I sent out 'good-bye' letters to my guardianship clients explaining my decision to no longer handle guardianship matters in my personal practice and introducing them to my colleague.
Most clients were very gracious and understanding but I had a few clients who were very upset with my decision.
Perplexed, and I'll admit, even a little miffed (after all, my decision was nothing personal against any of my clients and I went the extra mile to line up new counsel for them), I explained the situation to a friend of mine who is also a business owner herself.
Expecting her to commiserate with me, she surprised me when she thoughtfully replied that she understood why some folks were upset with my decision and proceeded to tell me why.
Her explanation was clear and, of course, made total sense. But it had honestly never occurred to me that anyone would be bothered when I was doing my best to make their transition to a new attorney as easy as possible.
Chalk it up to another change of perspective.
My changes in perspective over the years have served me well in working with my clients in designing their estate plans.
Our initial estate planning design meetings are a synergistic discussion about a client's desires about who they want to inherit their assets in the future and the guardrails they may want to build around that inheritance.
Together, our clients and I discuss their options, play out different scenarios, ask lots of questions, question assumptions, play devil's advocate.
Clients tell us that they find it helpful to gain a different perspective me, an unbiased person with not only years of experience in designing estate plans but also different life experience to bring to the table.
Personally, I'm a spouse, a mother, and a daughter myself. I've seen divorce and remarriages in my family. I've experience hard feelings, resentment, grief, and love.
I've also seen first-hand how the decisions of my clients and their loved ones have affected their families after they're gone.
I've read existing estate planning documents that no longer make sense under current tax laws or a client's life situation.
In other words, bringing a different perspective to the table only makes one's estate plan stronger.
Give me a shout if you're ready to hear a different perspective on your estate planning decisions: 850-439-1191
Kristen "Always Ready to Embrace a New Perspective" Marks