"Would you like me to organize your binder for you?," I asked my client at her estate planning review meeting last week.
"Oh, are you one of THOSE people?"
I laughed.
We prepare estate planning binders for our clients after they sign their documents to keep them organized in an orderly fashion and to provide a written "roadmap" for their loved ones when they die.
The binders also include written instructions to clients on updating the beneficiaries of their various financial accounts and other "housekeeping" matters to simplify their affairs.
If a client's plan includes a living revocable trust, we also include an itemized list of all of their assets and financial accounts that we will review periodically to ensure all assets avoid a future probate.
As organized as estate planning binders start out when they leave our office, they inevitably end up with other miscellaneous papers and other correspondence shoved in there that clients believe might be important.
At our review meetings every 3-5 years, I ask clients to bring their estate planning binders with them so I can re-organize and update them.
Apparently, this client was poking fun at my desire to maintain order and organization in my estate planning practice.
With a busy schedule, we must be hyper-organized and systemized in our office to keep everything running smoothly.
However, as scheduled and organized as I am in my everyday life and my law practice, I am surprisingly unscheduled when it comes to my vacations and time off.
Crazy Amy and I ran a trail race at Pikes Peak several years ago and we travelled to Colorado Springs for the race. I made the flight and hotel arrangements but Crazy Amy took care of our itinerary once we arrived. I would've just "winged it" but she lined up all sorts of fun places for us to visit and things to do, like our visits to Garden of the Gods, the top of Pikes Peak, and Manitou Springs.
Unlike my daughter who is like Crazy Amy and presented my mom and I with a written hourly itinerary the month before our visit to Denver in May, our visit to our son this past weekend at college was a "take it as it comes affair."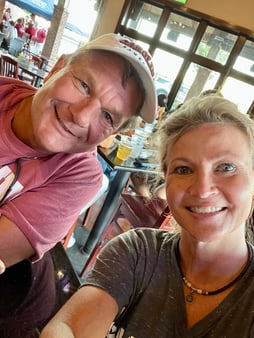 And the weekend was perfect nevertheless. The weather was sunny and mild. We finally had a chance to meet some our son's good friends that we've heard about. And the Gamecocks won their football game.
The extent of our plans this past weekend was, "I'll call you in the morning and we'll decide where we will eat lunch."
After purging the extraneous papers last week from my client's binder that had accumulated since our last meeting, she asked me, "Do you feel better now?"
Why, yes I do, thank you very much.
Kristen "I am one of THOSE people" Marks
P.S. Our schedule is filling up fast through the end of the year. With the addition of attorney Joy Reily to our office, you now have double the options to meet with us. Call us to reserve your initial or review estate planning consultation with one of us today: 850-439-1191