And in the blink of an eye after five months, they were gone again.
Both kids went back to their respective colleges last Thursday.
It seems like forever ago that they showed up during their Spring Breaks having been sent home during the Covid-19 outbreak in mid-March.
There was an adjustment period for everyone to get used to living under the same roof again. Ground rules were laid (please pick up your stuff!). Discussions were had about how we, as a family, would handle social distancing and limiting social contact. Who would we forego visiting? What activities in our daily routine would we remove?
For me, I stopped attending the gym, donating plasma, and even meeting up with Crazy Amy to run. The kids limited their social interaction to just a handful of close friends each. Andrew also stopped attending the gym. We all stopped going out to dinner. Sacrifices were made.
But, I think we all grew closer together as a family as a result.
We made many fun memories together that were unanticipated earlier in the year. Our family Texas Hold 'Em tournaments come to mind. My son cleaned up though I think my husband and daughter may have each won a tournament at some point. Me? Not a one.
Having Jill work in our office this summer was another unexpected bonus. She was great at her job and fun to have around. Plus, she encouraged me to make some changes in the way that I do business—ideas that I've had for a long time but just never got around to implementing.
Then, just like that, they were gone again and the house is quiet.
I spent the weekend picking up the house and doing loads and loads of laundry. I packed up boxes to ship to the kids of items they each forgot. Andrew and I went boating on Sunday. I kept myself busy.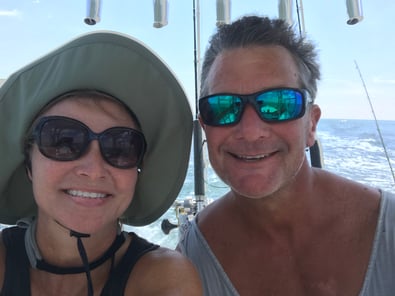 I was sad to see our kids leave but also reminded myself, yet again, that this is what I've always wanted for them--to be independent, have a real "college experience," meet new friends, discover who they are and what they believe, and hopefully, learn some important life lessons (and academic stuff!) along the way.
Our lives are in a constant state of flux. Kids grow up and move away. Weddings happen. Grandbabies arrive. Loved ones pass away. Illness can strike at any time.
Your Estate and Legacy Planning is never a one and done deal. Your Estate & Legacy Plan should evolve over time to reflect your current situation and stage of life.
For example, now that our kids are officially adults, Andrew and I do not need to carry as much life insurance. Sure, we want to take care of one another and provide some type of inheritance to our kids, but our main goal of raising them to adulthood is complete.
We are fortunate that both of our kids are very independent and (dare I say it?) mature for their age. Although we can't predict the future, Andrew and I have decided that our kids' inheritance does not need to be held in a long-term inheritance trust any longer if we were to pass away suddenly. But, of course, we may change our minds down the road again.
One of the new programs in our office that Jill has helped me put together is an Estate Planning Maintenance Program to make it EASY for you to keep your Estate & Legacy Plans current over time as your life evolves.
Andrew and I decided it was a good time to start another five day fasting diet (we use the Prolon FMD fasting kit) after five months of having junk food in the house. Rest assured we'll be going to bed mighty early this week which we always do when we're hungry.
And, I promise not to act too hangry this week in the office!
Kristen "Empty Nesting Take 2" Marks