Another email popped up fortuitously on my computer from Hilton Honors club while I was at the office last week.
"Save now on hotel rooms at Hilton Sandestin!"
Wow, I thought. This could be the answer to my prayers.
I had recently complained to my husband that I needed a little vacay. Staycations don't cut it for me. I need an actual away from the house vacation to stop thinking about the office, laundry, chores, etc.
"We should do it. Let's look at the Fall after Jill goes back to college," Andrew replied.
The FALL! I need something NOW.
So, I clicked on the email and started browsing when these so-called good deals were happening in Sandestin.
Jackpot! Mother's Day was a hit. Half-price the normal rate for that Sunday night. Before I chickened out (or heaven forbid, ask permission), I booked a single room and then proceeded to browse the spa menu.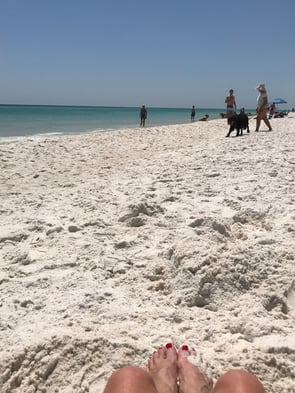 Yup, I booked two spa treatments for that afternoon too. All for moi!
Yes, you guessed it. I am going to Sandestin BY MYSELF this Mother's Day to spend a much needed (and dare I say, much deserved) afternoon and night alone to do…. well, anything I damn well feel like.
Spa, eat what I want, lounge by the pool, watch what I want on tv, drink what I want, stay up late (oh, who am I kidding? I'll still be in bed by nine o'clock anyway), sleep in. And most importantly, NOT think about everything I should be doing at the office, at home, or the gym preparing for my upcoming 30K in Colorado this summer.
I know, jealous, right?
Although admittedly, I am super excited about my upcoming jaunt, I'm also feeling just a tad bit guilty too.
I love my family and frankly, there's no one I'd rather spend time with than them. But my company takes a close second and sometimes I need time to myself to recharge my batteries. So off to Sandestin alone it will be for me on this upcoming Mother's Day.
Now I just need to figure out how to break it to my family that, at least for this year, I won't be around for them to lavish their praise and attention upon. Yeah, like that really happens anyway…ha!
Kristen "Sneaking Away this Mother's Day" Marks
P.S. Have you checked out our video library recently on our website? A variety of topics are covered in short, bite-sized snippets for your viewing pleasure. Here are just some of the topics covered:
Surefire ways to avoid Florida probate
How to protect your retirement assets for your children
Protecting your children's inheritance from four major dangers
How to choose the best guardians for your minor children
How to leave your special needs child an inheritance without jeopardizing their public assistance benefits
And more!
You can check out our video library on our website here.