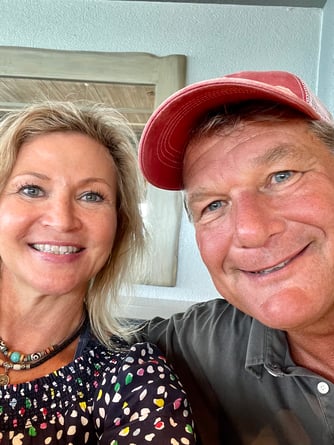 Andrew and I celebrated 27 years of marriage this weekend. We've been together 30 years, having met on the first day of law school orientation at the University of Alabama School of Law.
It doesn't seem possible that it has been that long since we tied the knot which reminds me of the old adage, "The days are long but the years are short."
Which should serve as a gentle reminder that it is never too soon to get your estate planning affairs in order, even if you think you are too young to do so.
The office has been busy. Folks are taking heed of my advice and schedule their new and review estate planning consultations.
We have a new attorney who has joined our ranks part-time, Joy Reily. Joy has her own estate planning law practice in Baton Rouge, Louisiana. She is also licensed in Florida. Joy and her husband, Chris, split their time between Baton Rouge and Pensacola. Now you have two attorneys to choose from when you call to schedule your appointment with My Pink Lawyer®.
----------------------------
Let's take a quick moment to review some common concerns with your estate plan:
Durable Powers of Attorney are only effective while you are alive.
Durable Powers of Attorney "die" and become automatically void when you die. The lesson is not to postpone updating the titling and beneficiaries of your assets with the expectation that your named agent will do so when you die. Your agent's authority immediately ceases upon your passing.
Out-of-state property may trigger an additional probate.
Florida probate courts do not have authority over out-of-state of property. Even if a probate is opened in Florida, a second probate will be required for out-of-state property if needed for retitling purposes. One of the best ways to avoid probate of property in another state is to retitle your out-of-state property to a living revocable trust.
A Living Will is different than a DNR.
The distinction between a Living Will and a DNR boils down to when life-saving measures are withheld.
A Living Will states that you do not want artificial food and hydration administered if you are incapacitated, and if you are at the end stages of a terminal disease or if you are in a persistent vegetative state, and if two physicians have determined that there is no reasonable medical probability of your recovery from such condition, and if your body cannot be kept alive any longer without artificial life support. That's a lot of IF's!
A DNR (Do Not Resuscitate) order is very different. A DNR prohibits any type of life-saving measures, period. In other words, if you keel over and have a heart attack, you do not want CPR administered to try to save you. If you are in a car accident and EMS has to pry you out of the car with the jaws of life, you do not want to try to be revived. In other words, regardless of the reason you are in this life-threatening state, you want to be "let go."
You cannot get a DNR from your attorney. It is an official health department form on yellow paper that must be signed off on by a physician. Most folks are not ready for a DNR when they come to see us for their estate planning.
Wills do not automatically avoid probate.
I feel like I might be preaching to the choir on this one because I counsel on it so often, but in case you missed it before, A WILL DOES NOT GUARANTEE YOUR ASSETS WILL AVOID PROBATE when you die. What determines whether your assets require a probate are the titling and beneficiaries (or lack thereof) of the particular asset or account.
What a Will actually does is allow you to "speak from the grave" to the probate judge about who you want to inherit your assets and who you would like to put in charge. Your assets will either pass automatically through other means without a probate OR they will require a probate. If a probate is necessary, then at least you have a Will to document your intended wishes.
----------------------------
Although Andrew and I did not do anything particularly "special" for our anniversary this year (frankly, we rarely do), we ARE looking forward to our next trip to Zihuatanejo in October to close on our property. We have a closing date on the books so fingers crossed there are no last minute hiccups.
Give us a buzz when you are ready to get started reviewing your estate planning affairs. We have a pretty great system in our office to make sure all of your bases are covered. Plus, we are sticklers for the details so you do not have to be.
In other words, we make the estate planning process SIMPLE and EASY for you. 850-439-1191
Kristen "Going on Four Decades With the Same Dude" Marks