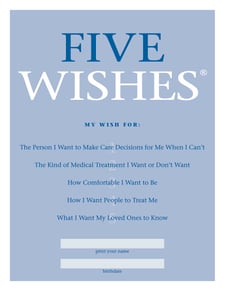 It brings tremendous peace of mind knowing that your health care wishes will be respected in the event that you cannot speak for yourself. Unfortunately, only one in five Americans actually have a documented advance health care directive or living will.
In these uncertain times, My Pink Lawyer® is happy to offer you this FREE downloadable Five Wishes medical directive.
Five Wishes meets the legal requirements in 42 states, including Florida.
Five Wishes is the first living will that talks about your personal, emotional and spiritual needs as well as your medical wishes. It lets you say exactly how you wish to be treated if you get seriously ill.
It's easy to understand and complete. As a Florida resident, it should be signed by you in the presence of two signing adult witnesses, one of whom should NOT be related to you by marriage or blood. Further, a named health care surrogate should not be one of your signing witnesses.
Fill out the form below to download your free Five Wishes Guide compliments of My Pink Lawyer®.