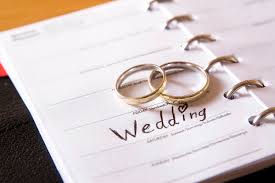 When my fiancé, Kyle, proposed to me, I was elated and excited to begin wedding planning. It's what every girl dreams of doing one day, and I already had a few ideas in mind.
I knew we needed to start with the venue, but after that, things started to get much more complicated.
"Of course we don't need to hire a wedding planner," was Kyle's confident input. And at the time, I agreed with him, since we had 11 months (plenty of time!) to plan the wedding and get everything booked and in place.
So, like I said, we started with the venue. Although this decision came after several weeks of going back and forth with the idea of eloping versus staying local and having a beach wedding versus a downtown wedding. But we made a decision that we were both happy with, and then moved on to all of the other vendors.
I consulted wedding websites and magazines, trying to stay organized and get checklists of when I needed to have each vendor booked.
Over the next few months, we met with photographers, talked to friends about their recommendations for bands and florists, researched caterers and ceremony musicians, and started checking things off the list.
Things were rolling along pretty well until I started looking at wedding dresses. I thought it would be a breeze, since I'm not very picky and I had an idea of what kind of dress I was looking for. But I was sure wrong!
Wedding dress shopping turned out to be the most stressful part of the planning so far. I went to at least six different boutiques (some I visited twice) and tried on more than 40 dresses before finally finding the right one.
I started to wonder, is 11 months plenty of time??
Now we are working on bridesmaid dresses (just as frustrating) and cake bakers (much more fun).
We are about six months away from the wedding now, and, according to my checklist on my wedding website, only 50% done with the planning. How is this possible?
I like to remind Kyle of his misplaced confidence in doing this all without a wedding planner and he likes to remind me that I agreed with him.
Thankfully, our caterer is going to provide "coordination services" two weeks out from the wedding so I can turn everything over to him and focus on enjoying the wedding.
All of this wedding planning reminds me of how important it is to also have an estate plan in order so that when something happens to us, all of our hard earned money and property and "stuff" will pass to our loved ones without a hitch.
An estate planning attorney, like a wedding planner, will consult with you about your goals and wishes for the disposition of your estate, including who you want to inherit, what you want them to inherit, and pitfalls to avoid.
At My Pink Lawyer®, we help clients design well-crafted Family Succession Plans, so you don't have to worry about leaving a mess for your loved ones after you pass away. A good place to start is by downloading our FREE BOOK on the subject!
In the meantime, please send Kyle and me good vibes that our wedding goes off without a hitch!