You haven't lived until you've pumped your breastmilk into a coffee cup.
I had to laugh at myself as I awkwardly hovered over the two coffee cups on my desk midway through my workday last Monday.
(They were clean, don't you worry.)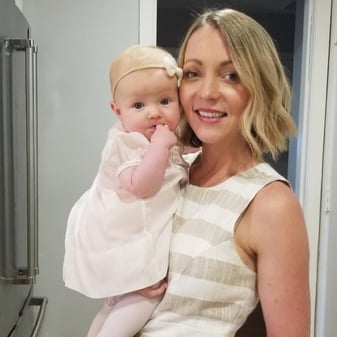 Why, you ask?
I'd forgotten a crucial piece of my pumping equipment yet again – this time, the bottles.
With about 13 different parts and pieces that complete the apparatus, I'm honestly surprised it hasn't happened more often.
While the containers may have been slightly unconventional, it got the job done and my kid didn't miss a meal.
Bonus – the ladies in the office and I got a good laugh out of it.
It seems as if this whole "mom gig" is one continuous lesson in adaptability; however, I'm discovering all sorts of new talents!
While this was a minor inconvenience in the grand scheme of things, it underscores the importance of being flexible and rolling with whatever life throws at you.
We are only human!
In life, as in estate planning, unpredictable things happen.
You know--Life happens!
Exploring all of the choices can make if your circumstances change while you are alive and have the capacity to do so is the key to a comprehensive estate plan.
Once you're gone, your family will be stuck with the decisions you did – or didn't – make for their benefit when you had the opportunity to do so.
When you work with one of the skilled attorneys at My Pink Lawyer®, we will identify the "what ifs" and potential pitfalls in your Family Succession Plan so that you and your family can navigate the unexpected as gracefully as possible.
It is our goal with each of our clients to create a thorough yet flexible plan that accomplishes current life and future goals, while building in flexibility and contingencies as your future changes.
Recently, we have added yet another way for clients to complete their estate planning.
For clients who are estate planning newbies, we now offer Basic Group Estate Planning Bootcamps. Attendees will leave these cost effective workshops with a fully prepared, basic estate plan.
Click here to reserve your spot at one of our group estate planning workshops.
Speaking of options and flexibility, in addition to traditional office consultations, we also offer video web-conferences with client throughout the State of Florida.
As for my pumping escapades, I'd venture to say that they are tame in comparison to stories of some of the other mamas out there. [Let us hear those stories please!]
As an added courtesy, I warned all of my co-workers that my now-filled coffee mugs were not a new flavor of coffee creamer in the fridge!
Amanda "Flexibility Just Became My Middle Name" Lynch Elliott