Unlike many major life events, when it comes to the birth of a baby there is a definitive deadline to prepare.
It's common knowledge, I'm a stickler for my planner. My family makes fun of me for how much I rely on it. At the beginning of each year, I make a list of goals I'd like to achieve.
Each month I make a list of things I need to accomplish to get closer to those goals, and each week I fit them into my calendar.
In the busier phases of my life, I've even been known to "time block" down to the hour in order to fit it all in. Hey… call me crazy but it works.
I almost wholly attribute my success in law school to the ability to break larger goals/tasks into bite size pieces, and to set and adhere to deadlines.
That said, a set deadline is a luxury that is not present in many of life's other major events.
Oftentimes, life happens fast. It is unpredictable and messy. Things happen in threes (really!) and suddenly you're swimming in unprioritized tasks all of seemingly equal urgency.
Like we tell our clients, if we had a crystal ball we could tell you exactly when and how to setup your estate plan.

The best we can do now is to enable our clients to make informed decisions, identify potential issues, and encourage a little forethought.
Be it birth, marriage, divorce, death, or any other major life event – all have an effect on the distribution of your assets – whether you are aware of it or not.
Like many others, "solidifying your estate plan" is likely not front and center on your calendar this week.
However, there are steps you can take now to start the process – such as:
Collect your financial statements, logins and passwords, retirement accounts, life insurance policies, etc. so that you know what you're working with. (Bonus points if you organize them in a binder!)


Contact our office THIS WEEK to schedule an upcoming Family Succession Strategy Session – For you fellow planners, here is your deadline!


We will provide you with a Family Succession Planning Worksheet to complete prior to your meeting which allows us to review and identify potential pitfalls particular to your situation.


Show up! We will do the heavy lifting. We don't just custom craft your plan, we walk you through its implementation.


Don't let life get away from you. A bit of preparation and a quick, two-hour meeting is all it takes to get your affairs in order and save your family a ton of expense and headache.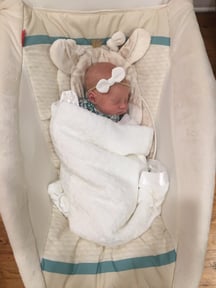 As I sign off and head to tend to my new baby girl, the irony of how quickly one's life can change is not lost on me.
I will see you all in January! Happy Holidays to you and yours!
Take care until then,
Amanda "New Mommy" Lynch Elliott