I blinked and a whole year passed!
Not too long ago, we celebrated our daughter's 1st birthday at a neighborhood park.
I started planning her birthday about a month out and decided we'd do a seasonally appropriate "pumpkin" theme.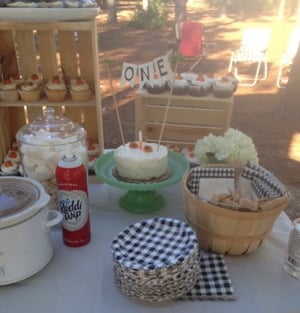 I made cupcakes with little pumpkins on top, and a "smash cake" that substituted refined sugar for apple sauce and icing for Greek yogurt for Liv to dig in to.
I made 3 different types of chili and hot chocolate to keep everyone warm, as well as pumpkin shaped sandwiches for the kiddos.
I mean I really spent some time thinking (and Pinterest-ing) about this thing!
I even made mini pumpkin and apple pies because… well, why not.
While I'll admit that I went slightly overboard, hey – she only turns one once.
When the day arrived, the weather was perfect (mid-60's), the sunshine was warm and in the words of Charles Dickens it was "summer in the light, and winter in the shade."
I'd prepped all the food and decorations the night before, so I gave myself about an hour to get all the supplies setup and food spread out.
I was about ten minutes into the setup when I realized how severely I'd underestimated the amount of time I needed to assemble all of the details.
While I love planning and the actual hosting of events, my execution could use some serious work.
My family and a few dear friends came to my rescue (per usual).
They helped me set out the decorations (quickly!) and with about ten minutes to spare, took charge setting out the last few food items so that I could run home, grab Liv, and not make her late to her own party.
Whew.
I spent a lot of time on the details of her party because it was important to me – my gift to her in a sense.
I almost undid the work and preparation I did on the front end by not allocating enough time to actually set up the party properly.
Kristen and I often see similar scenarios when meeting with our Legacy Estate Planning clients.
Many clients provide prior estate planning documents for us to review before their initial consultation.
It's surprising how many of the clients took the time to plan their affairs, but fell short in the actual implementation of their estate plan.
The most common example we see of this planning shortfall is the unfunded trust.
Living Revocable Trusts are a great way to avoid probate in certain situations, but only if they are properly "funded" – which means transferring assets into the trust, including real property, and retitling bank accounts, etc.
It's tedious work, but funding the trust requires visiting financial institutions, completing beneficiary forms, signing a deed for your real property, and changing beneficiary designations on your retirement accounts – among other things.
It makes sense when you think about it, but if a trust doesn't own anything, it is essentially a worthless stack of papers.
While the sentiment is there and these folks were obviously attempting to do a great thing for their families and get organized, they unfortunately did not follow through with the details required to make the plan "work."
Sadly, their families will likely require court intervention to effect their wishes.
Getting back to the birthday party – after my blood pressure returned to normal, the party was a success. My daughter was sort of on the fence about the cake, but her face lit up when she saw all of her friends that came to celebrate her.
As our clients and I unfortunately learned the hard way, the execution isn't the fun part but it is so important!
So, here's to following through (and to the ones that always show up to save us!).
Amanda "Not Quite a Party Planner Extraordinaire" Lynch Elliott