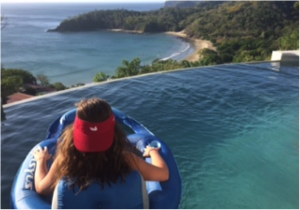 Most of us can't wait to plan our annual vacation but would rather have our teeth pulled than plan our estates. Why? Because planning vacations are FUN! Planning our financial and estate affairs and getting our thoughts and important papers organized is boring and tedious for most of us. Plus, most of us don't want to think or talk about DEATH.
Too bad, my friends. Get over it! Life is not always fun and as adults, we have adult responsibilities, such as paying our bills, raising our children, keeping up a home, planning meals, etc. I'd like to add one more item onto your List of Adult Responsibilities and that's
PLANNING YOUR ESTATE AND ORGANIZING YOUR AFFAIRS.
My family loves to travel to exotic places. Last month we travelled to Nicaragua. We had a fabulously adventurous yet relaxing time enjoying warmer weather.
We started planning our Nicaraguan adventure last Summer. After deciding the location, we researched ad nauseam places to rent. Should we rent a condo or house? Can we get by with just two bedrooms or should be get three? Do we want to be in the center of town or in one of the surrounding beach areas? Do we rent a car or wing it?
The decisions seemed endless yet fun at the same time. At the end of the day, we just made a decision on everything and hoped it worked out. After all, what's the worst that could happen? Sure, hindsight is 20/20 and we'd plan some things a little differently next time now that we know what to expect from the area.
Unfortunately, we don't have the benefit of 20/20 vision when planning our estates. And the stakes are much higher for our families than 'winging' a vacation when we choose not to plan our affairs and get things organized. Remember,
Your Estate Planning Doesn't Have to Be Perfect But You Do Need a Written AND ORGANIZED Plan
Having seen firsthand the expense and headaches that a lack of planning and organization causes for families when a loved one becomes disabled or dies, it boggles my mind why the majority of adults have no written estate plan or organization of their important papers and records.
So, the next time you plan your annual vacation, I hope you'll remember this article and also schedule a consultation with your estate planning attorney. While you're in the process of planning something fun for yourself (a much needed vacation), you can also plan something important for your family (your estate plan).
After all, Estate Planning is not something we do for ourselves, it's something we do for our loved ones because they are the ones who will have to live with the decisions we chose to make, or not make, for their benefit when we had the opportunity to do so.
Be the first to comment!