"Hey! I can't talk because I'm teaching at the gym but… Hi Mommy! I will call you in an hour when I am done teaching!"
Accompanying this life-changing text from our adoption consultant was a picture of our newborn son- the first time we had ever seen our precious baby boy.
I raced out the front door screaming for my husband, Matt, who was in the driveway loading up the boat that Saturday morning.
"MATT! MATT! WE WERE PICKED! WE WERE PICKED!"
Just like that, our prayers had been answered. We were parents!
Our-record fast adoption journey went like this:
Sunday, June 6th: Home Study Meeting at our house.
Monday, June 21st: Home Study report approving adoption completed.
Tuesday, June 22nd: Adoption profile book completed.
Thursday, June 24th: Call from our adoption consultant about a "stork drop" baby boy born and ready to be placed for adoption. Mom would be presented with profiles and choose a family for the baby the next day.
My three stepdaughters were at our house that night. Just as excited and surprised as we were, they gathered around the kitchen bar with me as we sorted through baby boy names… just in case!
Friday, June 25th: The LONGEST day EVER! Birth mom did not choose a family as planned.
Saturday, June 26th: We got the text about 9:30 am. The birth mom had picked us. In less than a month from starting our adoption journey, our son had been born!
We quickly ran to Target and filled 2 carts with baby essentials (best shopping spree EVER!), packed our bags, ran by the office, dropped our pup at my dad's house, and hit the road for a small hospital in Spring Hill, FL.
We arrived in Spring Hill late Saturday night, checked in to our hotel, and went to bed our last night before meeting our son.
Sunday, June 27th: We met our son for the first time, at exactly 8:00 AM. It was pure love at first sight. My heart melted. My eyes filled with tears.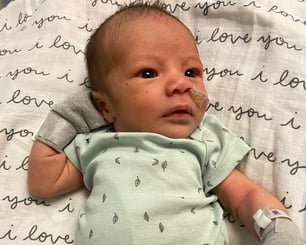 Owen Asher Merritt was born on June 22, 2021 at 5:20 PM, weighing 6 lbs. 15 oz. and measuring 19 inches long. He is perfect in every way.
Owen was born with Neonatal Abstinence Syndrome ("NAS") related to prolonged in utero exposure to opiates. He has been in the neonatal intensive care unit ("NICU") since birth, where he is being treated with morphine for opiate withdrawals. He is perfectly healthy otherwise and expected to make a full recovery.
It breaks my heart to watch our tiny, innocent son take such a powerful narcotic every day, but he is a strong little buddy and is doing very well. We are blessed with top notch care from all our NICU nurses and doctors.
Weaning newborns off narcotics is a very delicate, lengthy process. Owen has been in the NICU for 13 days, and it's looking like we will be here for another 2 weeks. The hospital graciously provided us a complimentary room across the hall from the NICU, so we have been able stay close to Owen and be present for each of his "hands on" feeding times, every 3 hours.
Our miracle boy's unexpected arrival left no time to plan for my sudden departure from the office. My planning consisted of swinging by the office on our way out of town to grab a scanner, a printer, and a pack of copy paper. I'm glad I at least thought to do that!
Since arriving in Spring Hill, we've made several trips to Walmart and Best Buy to get my remote hospital office fully-functioning, complete with a stroller box for a desk!
Although not nearly as efficient as I like to be, I have been able to keep in contact with clients and to keep my cases moving forward right here from the maternity ward in between Owen's feedings and the occasional nap (those 2am feedings catch up to you!). My clients have all been very understanding and supportive during this wonderful transition period. And Adriena and Emma have been invaluable support back in Pensacola!
I have dreamed of becoming a mommy since I was a little girl, and I am ecstatic the day is finally here. I am soaking up every minute with our little miracle!
Don't worry, though. I'm still here to support your Florida probate and guardianship needs.
Signing off now so I can catch some quick shut-eye before the next feeding.
Lauren "Thrilled to Finally Be Called Mommy!" Merritt