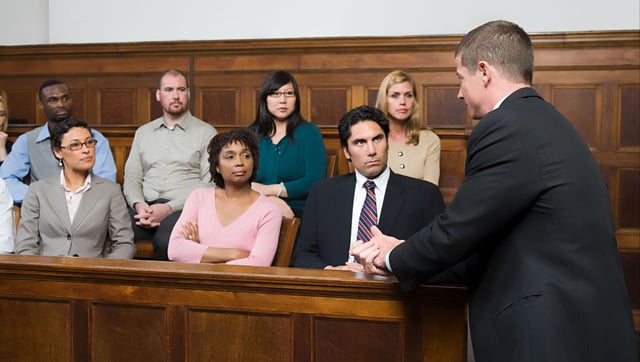 I can finally say that I have experienced everyone's favorite civic duty: getting called for jury duty!
I received my subpoena in the mail a few weeks ago and realized that I would finally have to attend. I was subpoenaed but excused a few times while I was away at college, and I was never subpoenaed while working as a prosecuting attorney (big surprise). Of course, as soon as I start working with Kristen, here comes the subpoena!
I arrived at the courthouse bright and early at 8am on my assigned Monday. The wind chill was about 30 degrees and there was a line out the door with prospective jurors waiting to go through security.
The court security officers thought it was hilarious to see me there, and gave me a hard time for having tweezers in my purse, which is apparently a prohibited item.
After patiently waiting three hours in the jury assembly room, my group was finally called up, only to wait outside of the courtroom for another hour before learning about the civil case at issue. The case involved an alleged breach of contract between a couple and a company they hired to do work around their home.
As I sat there listening to the judge and the parties ask questions, I started thinking about how important the money that was spent by this couple was to them. They decided to get the courts involved, go to trial, and attempt to get back what they felt was owed to them.
Small lawsuits and breach of contract cases like this happen all the time. There are entire television shows dedicated to that very purpose: shows like Judge Judy, the People's Court, Judge Joe Brown, etc. When you go to court, you are placing your fate in the hands of judges and your peers.
Our finances and assets are important to all of us which is why it is so important to have a written, thoughtful estate plan in place to ensure that our wishes are carried out when we pass away.
No one wants a judge deciding what should happen to our assets after we die because we failed to plan ahead for our loved ones.
At My Pink Lawyer, we are dedicated to carefully listening to your wishes and analyzing your financial and family situation to protect and carry out your estate plan.
---
In fact, we are offering our exclusive Family Succession Strategy Sessions for FREE for a limited time. Click the button below to complete your reservation form and someone from our office will get back to you shortly to coordinate our schedules.
---
Needless to say, I did not get selected to be on the jury. I guess that is one perk of being an attorney; no one wants you on their jury!
Have YOU been picked for jury duty? Tell us about your experience below.