Well reader, I've never felt more like a well-traveled gal until this moment.
I slept in the airport. On the cold tile. And let me tell you, although I was dead tired and extremely uncomfortable, it was necessary!
Let me rewind.
My friend Abigail and I are currently backpacking through Europe, and after spending 20 days in Germany, we were flying from Düsseldorf to the gorgeous Kefalonia, Greece to stay with one of my friends in her family's villa for a few days. I affectionately referred to this leg of the trip as a "vacation from my extended vacation."
However, we needed to get to the airport, and we hit several roadblocks trying to figure this out. We became pros at navigating the German public transportation, so that was our first choice. However, our flight was scheduled to depart at 6:10 AM, and transportation halted between 1-4 AM. We either could take the last train leaving at 12:45 AM, wait until they started running again at 4 AM but risk missing our flight, or try and schedule an Uber or taxi.
We booked an Uber for 3 AM to pick us up, but no driver was assigned for several hours. Both of us have experienced early morning cancellations due to no available drivers, and we didn't want to take that risk. I called every cab company in Düsseldorf, and EVERY. SINGLE. ONE. hung up on me when asking if anybody spoke English! After some research, I realized that many other tourists have had the same problem. We met some of the best people in Germany, but the cab companies lived up to the "Germans are cold people" stereotype!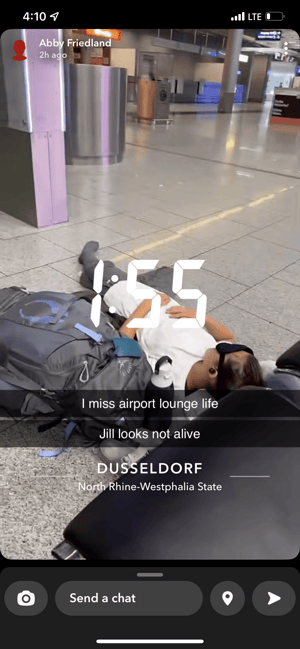 So, we were back to square 1. We could either suck it up and sleep at the airport or risk missing our flight. And we did not want to miss any part of this vacation!
We slept from 10 PM to 12 AM and made our way to the train station. Bag drop did not open until 3:30 AM, so I made myself comfortable on the floor, took out my eye mask and earplugs, and dozed for a surprising hour and a half.
And you know what?
It may have been our last resort, but dang it, I felt proud to knock that off the bucket list.
Just like I had to navigate roadblocks and make quick decisions to ensure we didn't miss our flight, estate planning involves making important decisions to protect your assets and ensure your wishes are carried out in the event of your passing.
I researched transportation options and made backup plans, just as it's crucial to research and understand the different aspects of estate planning, such as creating a will, establishing trusts, and designating beneficiaries.
By taking the time to plan ahead and make informed decisions, you can help alleviate stress and uncertainty for your loved ones during difficult times.
Additionally, my experience of sleeping in the airport highlights the importance of having a contingency plan. While it may not be ideal to think about, unexpected events can occur, and having a comprehensive estate plan in place can provide peace of mind knowing that your affairs are in order.
Have you ever had to sleep in an airport? One of the things I've loved most about backpacking is swapping stories with fellow travelers, and I'd love to hear yours! Let me know by replying or reach out to me on @jetsetting_jill on Instagram!
Jill "Crossing Everything Off the Bucket List" Marks
P.S. If you are a Florida resident and ready to scratch "creating my first estate plan" off of YOUR bucket list, call My Pink Lawyer® 850-439-1191 today or schedule a new estate planning consultation online and one of our fabulous "bucket list" attorneys will get you hooked up!