When I got engaged to my best friend late last year, we set April 11, 2020, as our wedding date. By February, I had the venues and the vendors lined up, the invitations mailed out, and the honeymoon booked. I have a touch of OCD, and I am one of those "planners," so I had all of the details and destinations in place.
And then… as it sometimes does… life happened.
Enter COVID-19.
Our first sign of trouble came when spread of the virus overseas led us to cancel our international honeymoon. Having never been outside of the United States, this trip had been on my vision board for years. Thank goodness we purchased the trip insurance!
Next, the Centers for Disease Control ("CDC") advised against gatherings larger than 250 people. We were well under that number. Relieved, we took note and continued to monitor.
Our real concerns first materialized when the CDC advised against gatherings larger than 50 people. Our guest list did not make the cut.
Set on marrying, we began scrutinizing the guest list, trying to decide how and where to make cuts. We rushed to the courthouse at 8:00 AM on a Monday morning, where we joined a line of anxious couples (yes, a line!) to secure our marriage license before the inevitable courthouse closures.
As the seriousness of the health concerns continued to grow, we decided to cancel our rehearsal dinner and indoor church ceremony, move the ceremony to our outdoor reception venue, and cancel the reception. Moving vendors and venues was a mess, but we did it!
The virus only continuing to spread its destruction, the president then advised against gatherings of 10 or more people. School closures, business closures, and a rush to the grocery stores (and more specifically, the toilet paper aisle) followed.
Finally, on Wednesday, April 1, 2020, the Florida governor announced the "Safer-at-Home" order would go into effect at midnight the following day. An April 11th wedding was not possible. I called my dad and my then-fiancé, Matthew, and asked "Would it be absolutely crazy to get married tomorrow?!"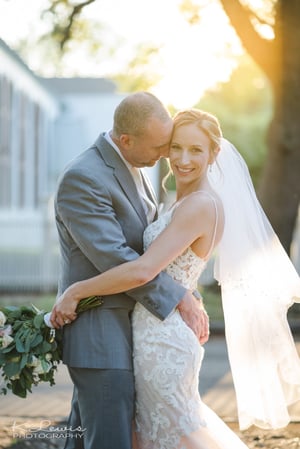 And just like that, we moved our wedding in little more than 24 hours! Like pieces of a puzzle falling into place, all of our incredible vendors dropped everything to get us to the altar the next day. I will never forget calling Betty Weber around 3:00 PM on Wednesday and asking, "Betty, do you feel like baking a cake tonight?" And bake a cake she did!
Matthew Merritt and I were married on April 2, 2020 at 5:30 PM outside on the lawn of Old Christ Church with our immediate family and a couple of close friends. It was a beautiful day and a story we will remember for the rest of our days!
I share this story with you to remind you that life often throws us curveballs and although it's always best to be prepared, even the best laid plans can go kaflooey.
Although my wedding did not turn out EXACTLY (wink, wink) as I had planned, the outcome is the same—I am a happily married newlywed! And what a story we'll have to share with our kids someday!
Lauren "This Bride Was Not Denied" Merritt
P.S. I'm honored to be affiliated with My Pink Lawyer® in handling their uncontested probate and guardian advocate matters. You can schedule a consultation using the button below.