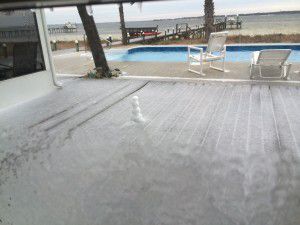 I awoke yesterday morning to a text from Emergency Management that the Pensacola Bay and Pensacola Beach bridges were still closed and weren't opening anytime soon. This was our second ice storm day at home and the third day of cancelled school. Now living on Pensacola Beach, I couldn't get to my law office had I even dared to try. While many parents I know were going stir crazy at home with the kids, I was desperately missing one of my own.
My 12 year old son was still stranded at his friend's house in Gulf Breeze on the other side of the beach bridge from us for the third day straight. Although I knew he was in good hands with his friend's parents, I still worried about him. He had only packed enough clothes and food for one night, not three! He's been vegan for over 18 months now, which makes it a little challenging when he spends the night out with friends.
Even though I try not to worry, it's natural as a mom to worry about our kids. We feel we know what's best for them—their bedtime, what they eat, how they spend their free time, who their friends should be, etc. It's not that my way is right necessarily (but of course it is for us moms, right?!); it's that I know my kids better than anyone else. I know their joys, their fears, what they like to eat, how much sleep they need to feel rested in the morning, how they like their downtime, their bedtime rituals, etc. Although I'm not a particularly nervous person and my kids are very independent, it was driving me crazy to be physically cut off from my youngest child.
It made me think about how my kids would do if neither their dad nor I were around to raise and guide them anymore. Although I know that no one will love them and raise them as well as we can (we all feel like that as parents, don't we?), at least we've put our legal documents in place to ensure that the folks that we want raising our kids will be appointed as their legal guardians and that the inheritance we will be leaving them (thank you life insurance!) will be protected and used for them well into adulthood. Without a Will, minor's trust, guardianship nominations, etc., all of these decisions would be handled by the courts outside of our control as parents.
It's not fun to think about our inevitable demise and I hope we all live long, fulfilling lives. But none of us have a crystal ball so as parents, it's our responsibility to love and teach our kids now but also to prepare for the worst. We can do so by making sure our Wills, Minor's Trusts, Durable Powers of Attorney, Guardianship Nominations, and Advance Care Directives are signed and up to date.
If you're a Florida resident, I can assist you with getting your Estate Planning affairs in order. You can reach out to me here to schedule your Free Estate Planning Consultation.