Matt and I were blessed to begin building a new home earlier this year. The builder broke ground on clearing our lot in March, just as we started seeing COVID closures and cancellations.
With our social activities limited, we began making it a regular habit to ride out to the new house each day after work, and often on the weekends, to realize the progress from each day's labor.
We call it "Easter egg hunting."
Whether spotting new plumbing, noticing baseboards, or spying the just-delivered air conditioning unit, it has become a fun exercise to see who can find the "Easter eggs" first.
Our frequent trips to the house have allowed us to watch the house being built from the ground up. We've had front row seats to every stage of the process…. that is.... until….
THE DAY WE GOT LOCKED OUT OF THE HOUSE!
Now, this is where I will pause the story to give you full disclosure:
Going to the house every afternoon also means we usually see each day's work before the superintendent. Like any construction project… there have been small things here and there the subcontractors haven't done right… and….
Let's just say we haven't missed a beat.
We have always been kind and respectful in pointing things out to the superintendent, but I know our builder will be glad when our house is finished!
So, here we are. It's another day after work …. and we excitedly arrive at the house to hunt for some Easter eggs.
As we pull up, we curiously notice the front door and side door, which have always been left wide open, are shut.
I immediately recall that the evening prior, we had emailed about a disappointing chip in the beautiful granite countertop that had been installed in the kitchen that day.
"Uh oh." I said to Matt before we even got out of the truck. "This doesn't look good. I think they locked us out."
We anxiously approached the garage entry door… twisted the doorknob... and…. Just as we suspected, LOCKED!
We marched to front door. Locked tight.
Frustrated, we checked the windows. Locked.
"I can't believe they locked us out of our own house!" I sighed. "I guess we sent one too many emails!"
We had always expected the house would be locked at some point near the end of the building process, but our floors hadn't even been installed yet!
The rejection was jarring and unexpected.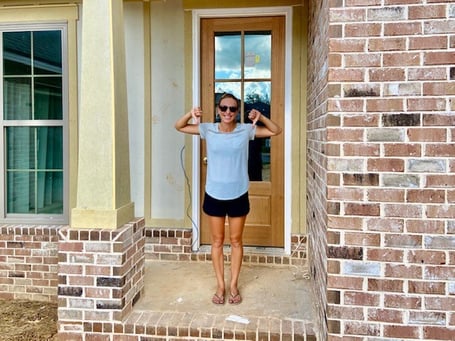 At the end of the day, we decided not to complain.
After all, what can we say? We don't own the house until we close. And we can't close until the builder is finished.
Nowadays, we ride out to the house every few days instead of everyday. Some days we get lucky and find the doors unlocked. Other days, we're stuck peering through the windows and patiently waiting for the day when our construction is finished.
When I talk to parents of children with developmental disabilities, they are usually shocked to learn that they will effectively be "locked out" of helping with their child's medical, educational, financial, and legal needs when their child turns 18 if they do not take proactive measures to keep those doors open.
When a child with developmental disabilities turns 18, the law recognizes that child as a legal adult, regardless of whether he or she still has the mental capacity of a young child or otherwise lacks independence.
Despite having devoted every day since their child was born to meeting their disabled child's medical needs, I've spoken to parents who have received letters and emails from doctor's offices and hospitals notifying them their access to medical records and online portals will be denied if they are not appointed as the child's legal guardian before the child turns 18.
The good news is that Florida has a streamlined guardianship process called "Guardian Advocacy" that is specially designed for persons with developmental disabilities. In a Guardian Advocacy proceeding, the court can appoint a Guardian Advocate to continue providing for the disabled child's medical, educational, financial, and legal needs after the child turns 18.
To learn more about becoming a Guardian Advocate, download our free GUARDIAN ADVOCACY TIMELINE: Ten Steps to Florida's Guardian Advocacy Process.
Lauren "Locked Out But Undeterred" Merritt
Affiliated Independent Counsel
My Pink Lawyer®