Ten hours into being induced, the birth of my daughter was straying further and further from the birth plan I had meticulously designed during my pregnancy.
Yep, an epidural was sounding amazing right about now.
Going into it, I had hoped to have an all-natural birth.
I had visions of soaking in the birthing tub, using various yoga poses, music and aromatherapy.
I deserved an overachiever award in birth preparation.
I read a few (five) books on natural child birth. I took classes. I met with the birth designer (yes, there really is such a career!). I signed a document requesting that no one in the labor and delivery room offer me medication unless I asked.
Things started off well enough.
Eight hours in, things stalled. My contractions were off the charts. (Thanks, Pitocin!)
My husband told me I looked like I was having seizures. My sister told me I was like a wild animal.
I'm honestly disappointed that I don't remember any of this because it sounds incredibly entertaining. However, at the time, for me at least, it was far from amusing.
At hour 10, I was told I had at least 8 more hours to go. WTF?!
Enough.
The anesthesiologist is, to this day, the most beautiful person I've ever seen – besides my new baby daughter of course. Sorry, Mark!
That's the thing about plans. They change.
The key to designing an effective plan in any situation is to recognize variations of the future and "what if's" and to build in flexible provisions that will apply if the unexpected occurs. This applies to estate planning, too.
While it is impossible to identify every possible scenario, a skilled estate planning attorney will use her or his judgment and experience to make sure that your desires are still carried out even if something unpredictable happens in the future.
My Pink Lawyer attorneys specialize in unpredictable family succession planning. You can schedule your Family Succession Planning Strategy Session with one of our attorneys online here.
While my experience wasn't anything like what I had envisioned, thankfully my (incredibly knowledgeable) doctor had seen it all before and was able to navigate the unexpected contingencies with ease.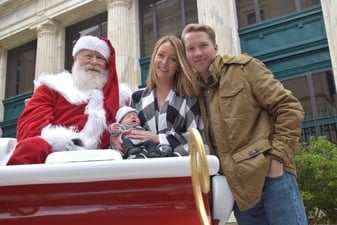 With her expertise, I held my healthy, beautiful little girl in my arms a mere eighteen and a half hours later. And just like everyone said it would, all the things that didn't go as "planned" washed away from memory.
Notwithstanding, I'm already joking with my husband that a scheduled C-Section sounds pretty darn good to me for the next go around!
Amanda "Give Me the Drugs Early Next Time" Lynch Elliott