My hiatus from blog writing speaks for itself. There have been big changes at the Merritt household over the past 4 months, and I've been busy!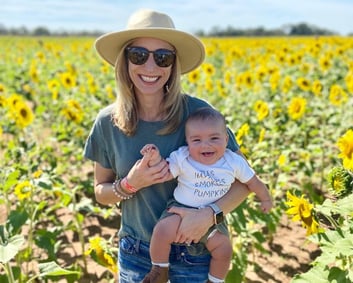 My husband, Matt, and I were chosen to adopt our precious son, Owen, a mere five days after our adoption home study was approved back in June. On Day 6, Owen was cradled in our arms in a Springhill, Florida hospital NICU where we spent the next 19 days.
I was transformed from stepmom to working mom... overnight!
And I had to adapt quick!
I remember one day texting the office from the NICU rocking chair asking my assistant to push a client call back 30 minutes because Owen hadn't fallen asleep after his feeding just yet.
If he was sleeping and I was awake, I was working.
I never stopped working. I couldn't.
As a solo practitioner with a deadline-driven probate and guardianship practice, I had to keep my cases moving forward for my clients. I was so grateful I had the flexibility to do so from the hospital.
When Owen was discharged from the NICU, I cherished the opportunity to work from home for a few weeks before returning to the office. And I was thrilled to find someone who loves Owen dearly to watch him when it was time to go back downtown.
Production has increased ten-fold since returning to the office, but that has been an adjustment too.
Pre-baby, I was at the office Monday-Friday, usually arriving between 7 and 7:30am. I worked as late as I needed to.
Now, I'm in the office Monday-Thursday, and I work from home with Owen on Fridays.
Matt and I take turns staying home with Owen in the mornings until his nanny arrives at 7:30am. Mondays and Wednesdays, it's my turn to stay home, and I get to the office between 8:00-8:15am. On Tuesdays and Thursdays, Matt stays back, and I'm usually at work by 7am.
I leave the office every day at 4pm to relieve the nanny by 4:30pm. Most days, 4pm comes quickly!
Working from home on Fridays is a tremendous blessing because I get to spend bonus time with Owen, but the older he gets, the less he sleeps. And you can do the math on what that means for getting things done!
Overall, working hours just look a lot different these days as I learn to juggle the "mom" and "lawyer" hats. Some nights I'm catching up on emails after dinner with the family and putting Owen to bed. Other mornings, I'm drafting documents while the rest of the house is still asleep. Naptime on weekends has proven to be another good time for productivity while daddy watches football.
When I'm home with Owen, he is my number one priority. But when he's sleeping, you'll probably find me at my desk!
My initiation as a working mom came at a time that Lauren A. Merritt, P.A. has been blessed with tremendous growth and productivity.
The phones started ringing so much it no longer made sense to share a receptionist with two of the other lawyers in the office.
We welcomed a new full-time employee, Jody, to take the lead on phones and help manage our growing case load. Jody is wonderful and has been such a huge help and asset to our team!
For those who came to know and love Adriena like we do, she's still working full-time at the office for Kristen and Andrew Marks. She'll still be the first to greet you if you visit the office in person!
As for Owen, he couldn't be more perfect. He is 4 months old now and growing bigger and stronger every day. Despite extensive in utero exposure to dangerous opiates and no prenatal care, he is developing beautifully and crushing all of his milestones--some of them even early!
Everyone tells us Owen is the happiest baby they have ever seen. If he's not hungry or tired, he's all smiles all the time. His smile lights up the room and his mommy's heart and soul. I had longed to be a mother for many years. After three failed rounds of IVF, I feared these days may never come.
But they have! And he's here! And I couldn't be happier.
This lawyer is thrilled to finally be promoted to working mom!
At Lauren A. Merritt, P.A., we are here to proudly support your probate and guardianship needs. Please let us know how we can help.
Lauren "Proud to Join the Ranks of Working Moms Everywhere" Merritt
If you have recently lost a loved one and are looking for direction with next steps, download our FREE Survivor Checklist: Six Steps to Take After a Loved One Dies in Florida here:
Download your FREE Survivor Checklist.
The Survivor Checklist is also a good resource to print and keep with your estate planning documents so it is available to your loved ones when the time comes.
We also offer a FREE Guardian Advocacy Report: How to Support Your Special Needs Child Without Losing the Right to Make Medical, Educational, Financial, or Legal Decisions. If you are interested in learning more about how you can protect the rights of your special needs child once he or she becomes an adult, you can download the Guardian Advocacy Report here:
Download your FREE Guardian Advocacy Report.
If you would like to schedule a probate or guardianship consultation with our office, please us at (850) 741-2999 or email me at lauren@laurenmerrittlaw.com