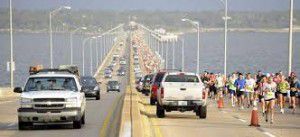 It's Noon on Saturday, February 1, 2014. I lay in the bathtub and swallowed two Aleve, every muscle screaming. I could barely move.
My 12 year old son and I had just completed Pensacola's Double Bridge Run, our first 15K race.
Last Fall, my son and I decided that every month we would run a race together for some fun mother-son bonding experiences. It's ironic that I'd even agree to running since I hadn't run since grade school. But a quick download of the "Couch Potato to 5K" app on my phone and I figured I'd work up my endurance.
Needing an audacious goal to motivate ourselves, we registered for the Pensacola Double Bridge Run about 5 months before the event. We technically had plenty of time to train but, as tends to happen, time flew by and an Achilles injury waylaid me from running for a month. Then, the weather turned cold and it was so much easier to sleep in instead of running in the freezing temperatures of the pre-dawn hours.
Before we knew it, the Double Bridge Run was upon us and the farthest I had ever run was 5 miles. That's right, folks, 5 miles and the Double Bridge Run was almost twice that distance (9.3 miles to be exact). Fortunately, my pitiful lack of preparation didn't deter us. I reasoned that the worst thing that could happen was I'd have to walk part, or all, of the race. Although pitifully slow, I am happy to say that I not only crossed the finish line (not last either!) but I jogged the entire way.
My son ran the race with eight minute miles and finished almost an hour ahead of me. Ha! [My son, by the way, didn't train for the race. He just went out and ran it—the only kid in his middle school to do so. Oh, to be young and healthy like that!]
Now, I don't recommend my "wing it" approach to running to Planning Your Estates. There's too much at stake for your family to either Do No Planning at All or to Do Haphazard Planning. No matter your bank balance, you've worked too hard caring for your family during your lifetime to leave your Estate Planning to chance. Unlike races, there are No Do-Over's when it comes to your Estate Plan.
If you haven't ever Planned Your Estate or your Estate Plan is over five years old or you've had a major life event in your family since you last reviewed your Estate Plan, you should meet with your Estate Planning Lawyer to make sure everything is up to date. It may seem overwhelming but a good Estate Planning Attorney will walk you through the Estate Planning process step-by-step.
My son and I will run next year's Double Bridge Run again and this time I plan to be better prepared. I've moved onto the '5K to 10K' app on my phone and am more diligent about stretching to help prevent injury after my runs.
I hope you think of me the next time you put off updating or planning your estate. Remember, An Ounce of Prevention is Worth A Pound of Cure!