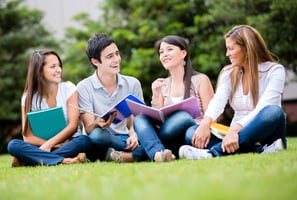 Sending your kids off to college comes with a mix of emotions: excitement, pride, sadness, and worry, to name a few.
And there a lot of decisions to be made as well, like where are they going to live? Who is going to pay for tuition, books, room and board? Do they need a meal plan? The list is endless.
But there is one more important decision to consider that many parents don't think of when making those final preparations for sending their children off to college.
Imagine the scenario: your daughter (or son) is 18 years old and a freshman in college at the University of Florida, five hours away. She gets into a car accident and is transported by ambulance to the hospital. Her friends call you to let you know what's going on, but you want to talk to the doctor immediately in order to know exactly what condition your daughter is in and what is going to happen.
Guess what?
The doctor is not obligated to talk to you since your daughter is legally an adult. And if she is unconscious and unable to give the doctor permission, that doctor is not going to talk to you.
So, you are forced to start that five hour drive down to Gainesville without knowing the exact medical state that your daughter is in or if she is going to be okay. This nightmare could have been avoided if you had her power of attorney in place before your daughter left for college.
There are two documents that every 18-year-old going off to college should sign.
The first is a medical power of attorney, which gives medical providers permission to speak with you as your child's medical agent. The document also gives you the power to make medical decisions on behalf of your child.
The second document is a financial power of attorney, which gives financial institutions like banks and credit unions permission to speak with you as your child's financial agent. It also gives you the power to handle financial and legal matters on behalf of your child. If your son or daughter forgets to pay the electric bill at their apartment and needs your help rectifying the situation, the electric company is not obligated to talk to you, since, again your child is now legally an adult. A power of attorney will once again solve this problem.
These types of documents can also be useful in situations that can arise when your child goes overseas, such as in a study abroad program. It can also come in handy if you need to sign a legal document, like a lease at their apartment complex, in your child's absence.
These documents are also revocable and amendable so your child can change their agents to a spouse or someone else when they are older and more settled.
It's crazy to think that you can be paying your children's tuition and health insurance, and claiming them as dependents on your tax returns, and yet not have the legal authority to make health care decisions or manage money for your kids once they turn 18.
Unfortunately, that is the law, but take comfort in knowing that there is an easy solution.
At My Pink Lawyer, in addition to estate planning, probate, and guardianship matters, we can also prepare these types of documents to help you ease at least one worry of sending your kids off to college, and try to enjoy your newly found empty nest freedom.
Want to learn more about the importance of planning for every adult (even 18 year olds)? Download a copy of our free book now.