"MATTHEW! We have a situation!" It was just after 4:45pm the Tuesday before Thanksgiving when I called my husband in a panic.
I had just come to the sudden, harsh realization that a small piece of my right front tooth was… well… Gone! Absent. Missing in action. Nowhere to be found!
"My tooth! It broke! On a peppermint. Oh my gosh. I can't believe this! Let me call you back. I have to call the dentist!"
As luck would have it, my dentist's office was closing for the WEEK in less than 15 minutes. The receptionist squeezed me in for the first available appointment… on Monday afternoon.
That meant I had six days to sport my unfortunate new smile. Six! And not just any six days… I was hosting my very first Thanksgiving in two days!
I snapped a picture on my cellphone and texted it to my dad. Then I called.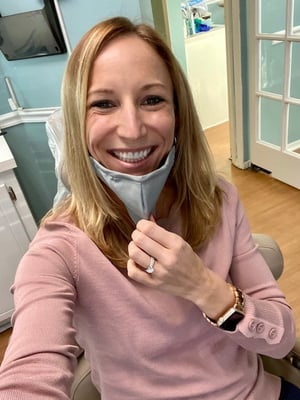 "Dad, we have to cancel Thanksgiving. I can't go on like this!"
Of course he knew I was kidding. He met my exasperation with laughter.
"Oh honey, you'll be fine. You can hardly notice!"
He was right… sort of. The chip really was small.
And you know what?
If there is EVER a time to chip a tooth, it's during a global pandemic!
Can someone say mask!?
My mask became my instant adult security blanket- my shield.
As it turns out, Thanksgiving was wonderful. 2020 has been very good to me, and I have so many things to be thankful for. I was able to spend the day in gratitude with family instead of in fear in front of the mirror.
Matt affectionately started calling me "Chippy."
During most of those six days, I was too busy living my life to even remember my front tooth was chipped. Then there would be the occasional moment that I'd realize I'd just talked to someone new- a neighbor or a friend- and forgotten to tell them the peppermint story.
A sickening feeling of insecurity would wash over me without warning. It would churn in the pit of my stomach. I would take a moment to assure myself it wasn't a big deal, and then I would go on about my day.
The way that pang of unwelcome insecurity washed over me reminded me of my relationship with grief.
My mom died in a drowning accident three years ago so I cringe at the saying "grief comes in waves" but it really has been an accurate description for me.
I can go months at a time being mostly alright, happy, unaffected. And then, without explanation, I am overcome with sadness and longing.
My hardest moments usually come on my happiest days. I can remember numerous times during our wedding planning going from jubilant to hysterical in a matter of seconds. Not being able to share my joy with her has been the most difficult part of my mom's death.
I've heard it said many ways by many folks:
"The only thing my momma didn't teach me was how to live without her."
…. Or did she?
My mom raised me to love and cherish others but to always be able to stand on my own two feet. Without saying as much, she taught me all the things I needed to know when she was no longer around to tell me herself… like how to "put your big girl britches on" and host Thanksgiving dinner with a chipped tooth!
You'll be glad to know that the Monday dental appointment was a great success. In less than an hour and a half, I left with my tooth… and my confidence!... restored.
Thank you to Dr. Yee's office for always taking such great care of me!
When I work with families navigating the grief that comes after losing a loved one, I encourage them to hand the stress and uncertainty of the probate process over to me so they can focus on healing and supporting one another.
Grief comes with enough ups and downs of its own without trying to decipher an unfamiliar legal process by yourself.
If you are sorting out what's next after a family member has died, start by downloading our free Survivor Checklist: Six Steps to Take After a Loved One Dies in Florida to help outline some important steps.
Download your FREE Survivor Checklist here.
Have questions about the probate process?


Give me a call at (850) 741-2999 or shoot me at email at lauren@laurenmerrittlaw.com.
Lauren "No Longer Chippy" Merritt