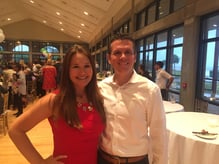 Jessica & her finance, Kyle
Last month, my fiancé and I attended Autism Pensacola's 14
th
Annual Connecting the Pieces Gala. This was my first year attending the event, and it was wonderful!
The gala was hosted by Jill and Grover Robinson and Rocky and Brett Parra.
I always enjoy a good gala, because it's nice to be able to dress up, see friends in the community, and help out an important cause.
This particular gala might be my new favorite!
During cocktail hour, guests bid on awesome silent auction items such as Wahoos tickets and beach resort getaways.
There was a "strolling dinner" that included tastings from all the best restaurants in town including Fish House, Union Public House, Four Seasons, and much more.
Of course, we had to at least taste a sample from each restaurant, so we were quite stuffed.
After all of the decadent food and drinks, the live auction began, which was the highlight of the night!
Collier Merrill did a fabulous job entertaining guests and auctioning off all of the donated items, including some beautiful jewelry and an adorable Yorkie puppy!
There was also a section of the program dedicated to collecting donations to send low-income Autistic children to camp for a week.
Through everyone's hard work and support, Autism Pensacola was able to raise over $37,000 that night!
My Pink Lawyer® was invited to the event as a friend of Autism Pensacola. We work with numerous parents and families of children with special needs, including Autism, to create special needs trusts and guardianship plans.
If a special needs child is currently receiving government benefits, such as SSI, and receives an inheritance when his or her parents pass away, that inheritance can jeopardize the child's government benefits.
An efficient and effective way of avoiding that problem can be to create a special needs trust so that the child's inheritance is held "in trust" and managed by a trusted family member, friend, or trust department.
Additionally, when a child with special needs turns 18 years old, the child is legally considered an adult, and schools and doctors' offices are no longer obligated to communicate with the child's parents.
Many special needs children are not mentally able to make their own decisions regarding medical treatment, housing, and financial issues, and it is important for their parents or other family members to be appointed as their guardians.
If you are able to attend Autism Pensacola's Annual Gala next year, I highly recommend it!
Parents who have children with special needs have difficult decisions to make during the estate planning process. My Pink Lawyer® is proud to be one of the few local law firms that handle Special Needs Planning and Guardianships for Developmentally Disabled and Special Needs Adults.
Want to learn more about protecting YOUR DISABLED LOVED ONE?
Download our FREE Special Needs Planning Guide by clicking the button below.