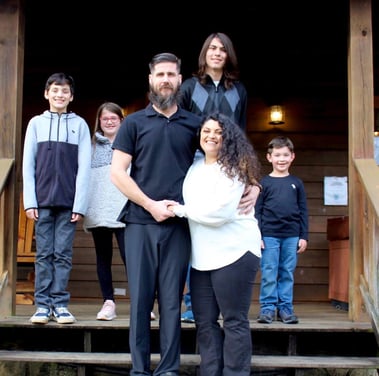 On New Year's Eve day, the officiant and his assistant reviewed the ceremony with us. I quickly realized we did not write vows or find rings. We laughed at how unbothered we were and the officiant said, "No problem!"
The kids gathered around the table (slightly muddy and wet from the creek). The older kids had cell phones in hand and began recording the festivities. I paced around trying to think of the best place for our ceremony. Michael placed his arm around me, quickly calming my anxiety, and said, "This is perfect."
After Michael and I became "official," we signed papers and snapped some photos and then, in a blink of an eye, that was it! We were married and our kids' lunch was ready on the stove.
The kids ran into the kitchen to eat while Mike and I changed into our bathing suits to soak in the hot tub. The kids went about their playing and we relaxed while planning our next adventure to the SkyBridge Park. The park included the lift ride up to the bridge, the suspension bridge itself, and seating areas to enjoy the Smoky Mountain views.
As we stood in line for SkyBridge Park later that afternoon, Michael expressed his concern about the bridge's height and Michael's 14 year old son, Aaron, was right there behind him, nervously pumping himself up for the lift. How had I overlooked their fear of heights?! I knew they were nervous about heights but surely, they'd pull through, right?
We divided our collective crew into two parties of three and Michael rode the lift with his two children and I rode with my two kiddos.
Once at the top of the mountain, Aaron was not well and was panicked on how he could get down without using the lift again! Things were not looking good for the bridge crossing. Too late now…
We walked up to the bridge to walk across the longest suspension bridge in the U.S. My two boys and I trekked on in excitement and then, Aaron stopped short and said "NOPE! I can't do it. I'm not going." He took off back to the seating area and yelled "I'll wait here!"
One down.
I took the lead as Michael followed behind us with his 10 year old daughter, Aubrey. She held onto the siderails like her life depended on it. Aubrey soldiered on until the bridge begun swaying excessively and we were standing over the clear glass bottom. That was all she wrote. Aubrey began crying and hyperventilating, tears and snot flying.
Two down.
Michael offered to carry Aubrey back across the bridge but that made it even worse. I suppose Michael's 6'4" frame didn't help since now Aubrey was now suspended in her daddy's arms well above the siderails.
Aubrey's terrifying experience is somewhere recorded for posterity because ahead of us, a man was down on one knee surprise proposing to his girlfriend. Oh, to see the look on their faces when they see poor Aubrey sobbing hysterically in the background of their recorded big moment. Talk about a great photo bomb!
We FINALLY made it off the bridge and after a bit more drama about riding the lift back to the bottom of the mountain, we all celebrated to finally be back on solid ground again.
We laughed about the day's events on the drive back to our cabin. Burgers for dinner and ice cream for dessert, the kids ran around as Michael lit fireworks and we counted down to the New Year.
This was a New Year's Eve to remember and I am blessed and thankful to begin a new chapter in my life with a new husband and two more great kids to call my own.
Now that we are married, Michael and I need to update our own estate plans to ensure that everyone, each other and each of our children, is protected in the event of an unexpected death.
If you haven't yet planned YOUR estate affairs yet, or you've recently had a change in your family circumstances, you can schedule a new consultation with Kristen by calling ME, Adriena Jett, her trusty assistant at 850-439-1191.
Although the New Year has just begun, Michael and I are already planning our next family adventure together. Let's see what new shenanigans we can get ourselves into. But I can pretty much guarantee that it won't involve any heights!
Adriena "Blissfully Happy Newlywed" Jett